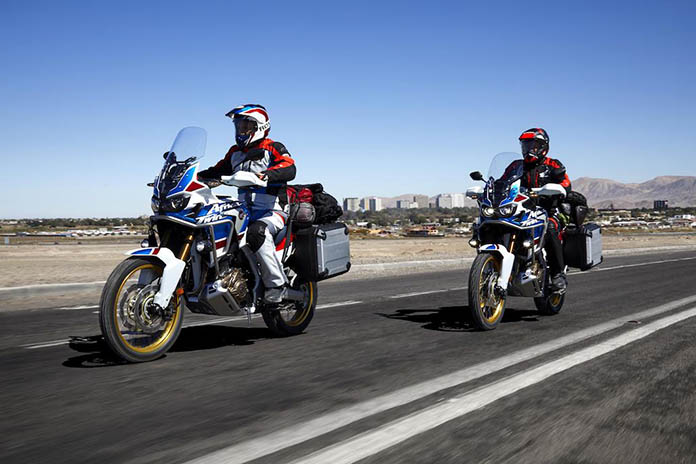 Honda today reveals its full 2018 European motorcycle line-up on the eve of the EICMA show in Milan, with the introduction of five new and two extensively upgraded models, alongside concept versions of two Honda legends. The new line-up spans the entire Honda range from a new entry-level 125cc machine, to the 2018 GL1800 Gold Wing, further enriching the deepest, widest product line-up of any manufacturer.
CB1000R, CB300R and CB125R bring a new kind of naked style
The CB1000R heads a trio of new naked machines with a unique new identity developed under a design theme of 'Neo Sports Café'. The new styling language is modern and minimalist, mixing sports naked and café racer inspirations with head-turning results. While every single part has been chosen with its aesthetic effect in mind, the CB1000R lacks nothing in performance and specification: a 12kg weight reduction and 15kW power up compared to the previous generation of CB1000R means a 20% improvement in power to weight ratio. The multiple riding modes with different combinations of Power, Engine Braking and Honda Selectable Torque Control run on a new state-of-the-art Throttle By Wire engine management system.
Sharing the new look are two machines for riders at an earlier stage of their motorcycle career. The CB300R and CB125R are both built for fun riding, with light weight and free-revving engines. But they also boast high specification 41mm USD forks, preload adjustable rear suspension, radial-mount 4-piston front brake calipers and several other features more usually found on much larger machines such as LCD instrument display, LED lighting and IMU-based ABS system.
Upgraded Africa Twin gets new 'Adventure Sports' stablemate
The new 'Adventure Sports' version of the CRF1000L Africa Twin marks the 30th anniversary of the arrival in Europe of one of motorcycling's most celebrated names. Bearing the same tricolore paint scheme as the original, the new model is built to go even further on both on-road and off-road adventure. It has a 5.4 litre bigger fuel tank than the CRF1000L Africa Twin itself, plus longer travel suspension, higher riding position and ground clearance, heated grips, extra-large skid plate and extended fairing with protective cowl bar. It also shares the extensive updates given to the Africa Twin, which include Throttle By Wire engine management with four riding modes, expanded Honda Selectable Torque Control parameters, and revised intake and exhaust for stronger mid-range response.
X-ADV readier than ever for off-road action
Having taken the market by storm in 2017, selling close to 10,000 units in its first 8 months, Honda's 'motorcycle SUV' – which marries the convenience of a scooter with the dynamism of an adventure motorcycle – is now equipped with more off-road capability for 2018. The addition of a multi-level Honda Selectable Torque Control system and 'G' switch for more direct gear changes offer a wider range of performance for when the tarmac ends and the trails start. A new 35kW version also makes the X-ADV available for A2 licence holders.
GL1800 Gold Wing lands in Europe
The new GL1800 Gold Wing makes its European debut at the 2017 EICMA show. Synonymous with long range comfort, luxury and quality for over 40 years, the new Gold Wing has been redesigned from the wheels up, to be sharper, lighter and more compact. The monumental flat six-cylinder engine now has 4-valves per cylinder and comes equipped with Throttle By Wire, 4 riding modes, Honda Selectable Torque Control and a Hill Start Assist function. The new chassis features an aluminium beam frame, double wishbone front suspension and single-sided Pro-Arm.
The Gold Wing remains the only motorcycle to offer an air bag as an option, and the new standard-fit Apple CarPlay is another motorcycling first. An entirely new, third generation of Honda's unique Dual Clutch Transmission – with seven speeds – will also be available, and is the perfect match for the Gold Wing's continent-crossing capabilities.
Evolution of popular NC series continues

For 2018, the wide-ranging appeal of the NC750X, NC750S and Integra will now be in reach of A2 licence holders thanks to the addition of 35kW versions to the line-up. All three also have an rpm limit raised by 900rpm to 7,500 to allow natural use of the engine performance into a higher rpm range, and both the NC750X and Integra benefit from the addition of Honda Selectable Torque Control.
Concept versions of two small machines with a big history
Alongside the new models, two concepts – both wearing the original Honda wing logo – add a nostalgic appeal to Honda's 2017 EICMA unveil. In addition to a 125cc horizontal single-cylinder engine, the Monkey 125 concept sees modern touches such as LED lights, Smart Key, USD forks and digital meters appear on the unmistakable, much-loved Monkey platform.
Finally, the Super Cub 125C concept is a new take on the instantly recognisable classic. Having last month reached the unparalleled milestone of 100 million units sold, this concept version writes a new paragraph in the Super Cub's 59 year old history, and is an ultra-modern reminder of its enduring appeal.