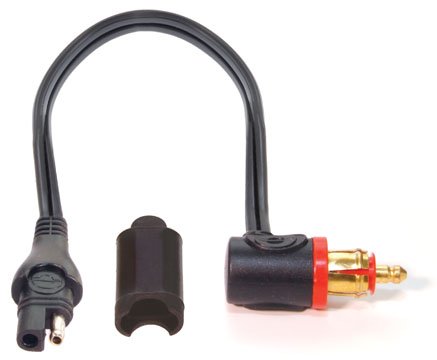 Most electrical accessories designed for use on/with a motorcycle will get wet at some stage – after all, bikes are designed to be used outdoors. Keeping that moisture out of the electrical circuitry is crucial – even a small amount can cause intermittent faults and even total failure.
One of the most vulnerable points of any circuit is where connections are made, yet many accessories – even those designed for use during winter months, like heated clothing – aren't routinely supplied with connectors that are able to keep out the elements.
OptiMate's entire range of connectors and cables are weatherproof as standard. Compatible with the majority of accessories and add-ons currently available, they help to stop moisture causing problems and guard against any issues it might cause with the bike's electrical system.
The range covers most of the connectors and leads needed to operate common accessories, like heated clothing, sat nav systems, smart phone chargers and battery optimisers. It includes:
SAE Connectors, compatible with all used in the industry, designed to accept OptiMate's boot and cap or in-line seal that protects the connection against water, dust and dirt. Very useful whilst riding as the pins will not corrode, and in workshop/outdoor applications, where cables can end up trailing on the ground.
Custom battery clips; designed for square power-sport batteries, the flat tabs found on some small power sport and gel deep-cycle batteries, as well as the round posts common in automotive applications.
Moulded battery rings (M6/1/4") specifically designed for power-sport batteries, a much better alternative to the common M8 / 5/16" ring.
Auto connectors (Ø21mm): plugs with built in fuse protection, sockets with retainer slots for the leaf springs and with sealing caps.
Bike (DIN) connector (Ø12mm): now fully moulded, and available in low profile 90 and 180-degree versions.
DC Ø2.5mm connectors commonly used in heated clothing, which have in-line seals/boots for every connection and a battery lead that comes with 16 gauge (1.31mm2) cable, rated to –40°C.
For details of the complete range of OptiMate connectors, leads and accessories – as well as their battery optimisers – and to find out how you can weatherproof your current kit, visit www.optimate1.com