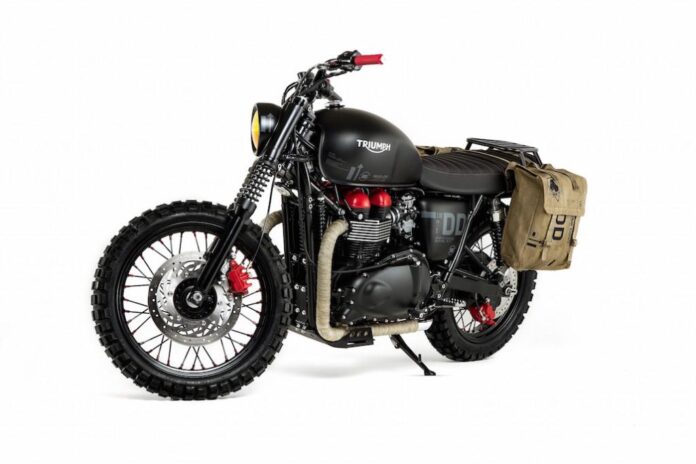 An absolute original, just like Snake, Venom is a Bonneville designed and built to celebrate the launch of the game METAL GEAR SOLID V: THE PHANTOM PAIN and the series' iconic partnership with Triumph Motorcycles, whose bikes have featured in METAL GEAR SOLID 4 and METAL GEAR SOLID: PEACE WALKER.
Based on the legendary Triumph Bonneville T100 ridden by Snake in METAL GEAR SOLID V: THE PHANTOM PAIN, Venom is an in-house custom build created by the Triumph team that brings to life Snake's stripped back and uncompromising edge. With unique styling and detailing, including game-originated graphics and the renowned Diamond Dogs logo, Venom is a mission-ready bike that truly reflects Snake's world.
It's obvious that Snake's bike was never going to stay stock for long. To be fit for an ex-special forces solider and mercenary, a bike has to be forged: tweaked, customised and developed. The Diamond Dogs pack leader has little need for civil niceties, so mirrors, speedo and rev counter were quickly stripped off with function defining form. From there on in this stock T100 Bonneville has evolved to become the ultimate hot rod.
Off-road duties are handled with ease thanks to custom rims fitted with dirt-focused rubber in the form of Continental TKC80s. The stock saddle has been cut down and refinished in Sneaking Suit neoprene and carbon Kevlar leather inspired by Snake's iconic combat wear. A heavy duty ammo rack loops around the back of the saddle, offering both protection and somewhere secure to bolt down an extra case or two of .50 cal.
A yellowed-out JVB Rumbler headlight and external heavy duty fork springs give an aggressive dimension to the front end, a profile exaggerated by the lack of front mudguard. At the rear, the cut-down guard and exclamation mark tail-light add to the individuality of the machine. Colour matched callipers and cam cover are stand-out details, whilst the custom slash-cut exhausts deliver a soundtrack that lives up to the looks. Details such as Triumph Tiger off-road foot pegs, Renthal performance sprocket, machined throttle body caps and Triumph sport levers all contribute to making this bike as unique as its rider.
Finally a hard-wearing stencilled matte black Diamond Dogs livery clearly links bike and owner – both of them ready for action in a heartbeat.
This is a Bonneville fit for Snake. This is VTB:1/Venom.
The VTB:1/Venom Triumph Bonneville will debut at the MCM London Comic Con, May 22-24, and then will tour a number of events throughout the year. Don't miss your chance to see this unique motorcycle inspired by gaming's most uncompromising hero.
Notes to Editors
About Triumph
First established in 1902, Triumph Motorcycles celebrated 110 years of motorcycle manufacture in 2012. For more than two decades, Triumph Motorcycles has been based in Hinckley, Leicestershire, and has produced iconic bikes which perfectly blend authentic design, character, charisma and performance. Building around 53,000 bikes per year, Triumph is the largest British motorcycle manufacturer and has over 750 dealers across the world.
At the heart of Triumph's philosophy is a commitment to developing truly unique motorcycles that offer a blend of distinctive design, intuitive handling and performance to enjoy the perfect ride. . The innovation and engineering passion that gave birth to the iconic Bonneville of the 60s has today created a broad range of bikes suited to all motorcycle riders, including the striking 2.3 litre Rocket III, the unmistakable Speed Triple and the TT and Daytona 200 winning SuperSports Daytona 675R.
Triumph currently employs around 2000 personnel worldwide and has subsidiary operations in the UK, America, France, Germany, Spain, Italy, Japan, Sweden, Benelux, Brazil, India and Indonesia as well as a network of independent distributors. Triumph has manufacturing facilities in Hinckley, Leicestershire, and Thailand plus CKD facilities in Brazil and India