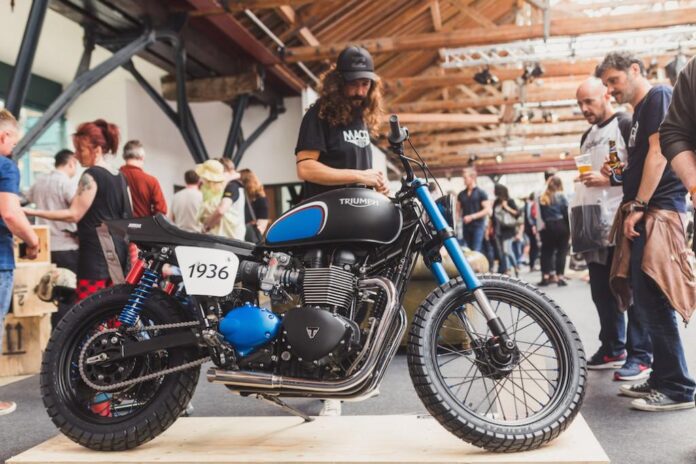 London played host to 10,000 custom-bike fans this weekend (22-24 May), as the third annual Bike Shed hit the capital. The event, held in association with Triumph Motorcycles and run by Bike Shed Motorcycle Club (BSMC), took place at Tobacco Dock, in the heart of the city's docklands.
A celebration of all things custom, Bike Shed is a stylish homage to Europe's bespoke bike scene and marks the second year Triumph has served as the event's lead sponsor.
Over 156 top-quality, one-off bikes were on display, with professional and shed builders coming together to showcase the talents and creativity the custom scene is known for. With many of the bikes almost completely unrecognisable from their original models, visitors got the chance to see some spectacular one-of-a-kind builds.
One of the key reveals of the weekend was the stunning collaboration between Triumph Motorcycles and Barbour International. Called BIT1, the bespoke in-house build by the Triumph team is based on the iconic Triumph Scrambler with detailing to echo the craft and tailoring from Barbour International, the British heritage brand with a history of producing motorcycle clothing since 1936.
The event was not only a celebration of bikes; there was also live music throughout the weekend and specially commissioned pieces of art. The weekend's London event follows a successful Parisian Bike Shed in April, the first time the event has crossed the channel.
Since its beginnings as an underground bike club, BSMC has served as an outlet for the innovative, adventurous spirit of custom builders. The event has also spawned a devoted social media following; last weekend's event garnered 704,000 hits on Facebook alone.
Rick Cawley, general manager for Triumph UK and Ireland, commented: "With Triumph's legacy as Britain's leading large capacity motorcycle manufacturer, plus our strong custom heritage, we're the perfect partner for BSMC. Not only does it attract dedicated, expert custom bike builders, the friendly atmosphere makes it the perfect event for bike fans whatever their age or background."
Anthony 'Dutch' Van Someren, founder of the Bike Shed, commented: "We're delighted to have brought the event back to London and to Tobacco Dock. This is a venue with the class, character and heritage to properly host a show that celebrates the same attributes in bikes, art, hospitality and people. We saw some amazing custom bikes, which highlight the creativity, skills and ingenuity that can be found in the custom scene in the UK and Europe.
"It's been great to have the continued support of Triumph for both our Paris and London events. They have felt more like partners than sponsors, allowing us to do our one thing, sharing our passion and enthusiasm for this fast-growing lifestyle motorcycle scene, while having an approach and genuine heritage that sit perfectly with the Bike Shed ethos."