The 'post-apocalyptic' Dax 'Furiosa' created by the Portuguese pairing of young artist Tamara Alves (@tamara_aalves) and bike builders at the Art of Wheels Garage (@artonwheelsgarage) has been crowned this year's Honda Customs winner.
Receiving 34% of the total of 15,924 votes, Furiosa was victorious over six other custom European mini-bikes and follows in the footsteps of previous Honda Customs winners: Italian custom house Motocicli Audaci's customised Rebel 'Maanboard', Portuguese Honda dealer Mototrofa's 'Fenix' – a take on the CB650R, and the 'CB100R Africa Four' by Swiss Honda dealer Brivemo Motos.
Inspired by the world of post-apocalyptic movies, Furiosa features block tyres, a wolf motif, graffiti signatures, bespoke exhaust with wire mesh cage, and glimpses of tartan peeping out of the scorched seat cover.
The classy and graceful 'Manjushage', a customised Honda Monkey designed and built by the German team of artist @Lanaarts23 and bike builder Maximilian Zech, a technician based at the flagship Honda Centre dealer in Frankfurt, came in a close second with 29% of the total.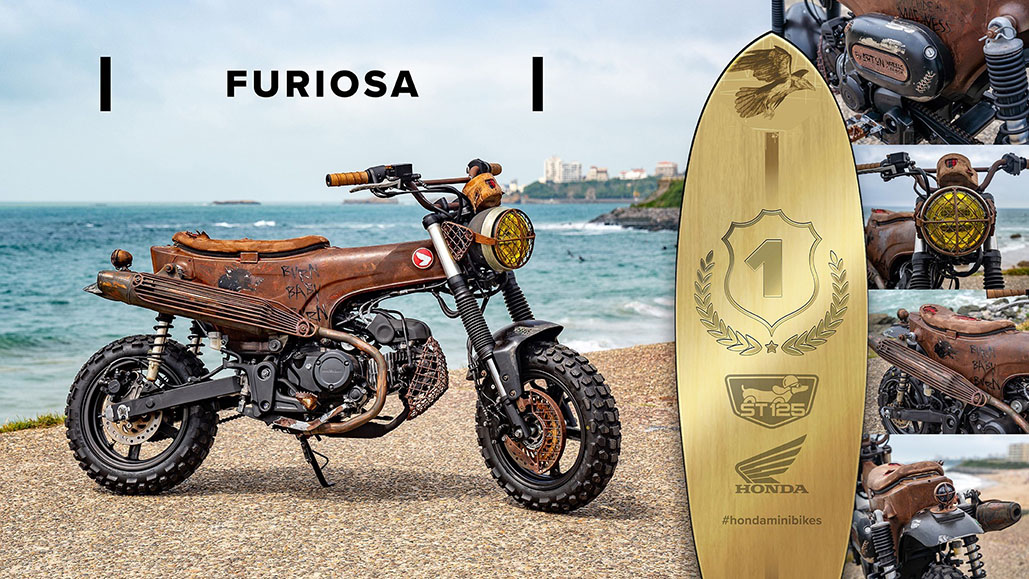 The subtle café racer features clip on bars, a Yoshimura end-can and aftermarket remote reservoir rear shocks to boost performance and handling, while Lana's signature spider lily motifs (Manjushage in Japanese) adorn the fuel tank and fender, with the finishing touch being a tiny cartoon monkey on the downpipe heat shield.
The podium was completed by France's 'Tokyo', a Monkey displaying an absolute riot of colour from the French duo of artist Grems (@insta_grems) and builder George Woodman (@georgewoodman64). What set Tokyo apart from the other entries were the pop-art visuals, pumped with vibrant colour in abstract – and subtly meshed – patterns on every square centimetre. It attracted 12% of the total votes.
This year 21,606 people visited the www.hondacustoms.com webpage over the summer to cast their votes, an increase of 41% from last year, with 5,461 users downloading a wallpaper of the chosen bike for their mobile or desktop.
All seven bikes were on display at the annual Wheels and Waves festival, running from 21st to 25th June in Biarritz, France.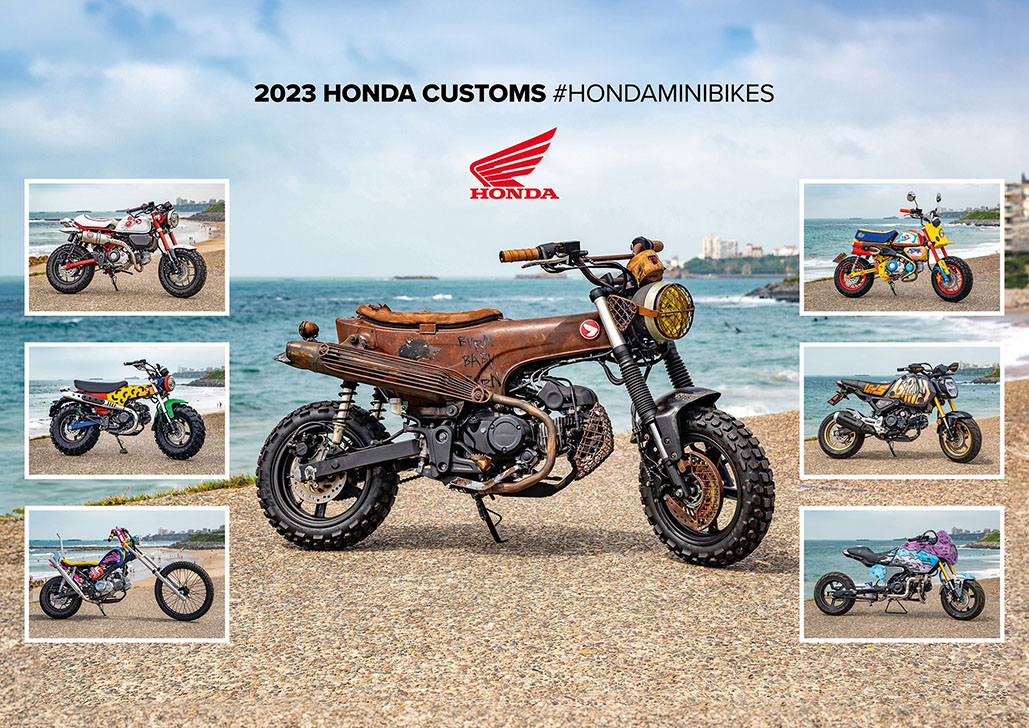 Masayuki Hamamatsu, General Manager of Motorcycles, Honda Motor Europe: 'Working with young artists to create unique versions of our minibikes has been a fantastic way for us to attract the attention of a younger audience to the fun and accessibility of motorcycles.
The strong reaction to these seven incredibly diverse creations is an encouraging sign of how motorcycles really engage people's interest when they are given the chance to be 'in contact' with them.
Furiosa is a very cool and worthy winner and we are very grateful to all the artists and customisers who were involved from seven different countries – and to the more than 15,000 people who voted.'
For those wishing to take a closer look at all seven customisations, the Honda Customs page www.hondacustoms.com is still available in English, French, German, Italian, Spanish and Portuguese and features bikes from Spain, Austria, France, Italy, Germany, Portugal and the UK . Users are still able to download a wallpaper of their favourite bikes for desktop or mobile.