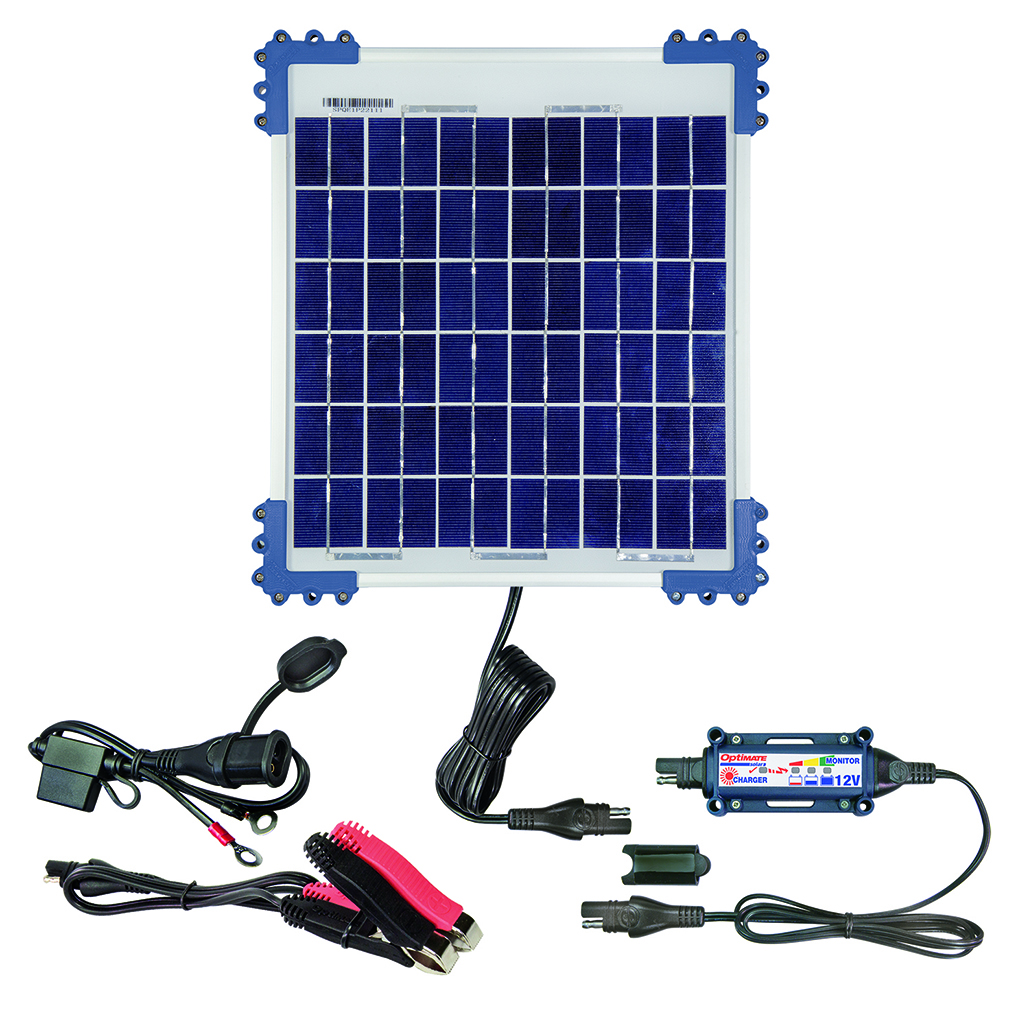 New from OptiMate, a solar charger that works by day and night.
OptiMate's ground-breaking solar kits can save a 'dead' motorcycle battery and provide safe long term maintenance, using only the sun's power – ideal for use in race paddocks, sheds and wherever vehicles are stored where there's no access to a power point.
INTELLIGENT
OptiMate developed their modular solar kits using the latest intelligent charging technology, converting the low power from the solar panel during low sun or cloud cover, to the high current pulses needed for effective charging and maintenance of 12V batteries. When the sun is not obscured the controller will switch to direct power delivery, always choosing the fastest charge mode according to sunlight strength.
EFFICIENT
The most efficient charge method is automatically chosen, thanks to the TM-522 smart charger-controller: when the panel receives sun, the controller delivers power to the battery; when the sun goes down or is obscured, the monitor senses that no power is being delivered and changes into a battery monitor, indicating battery status every three seconds on its easy-to-read LED panel.
SAFE
Solar Kits are completely safe for use with all STD, AGM and GEL 12V batteries, from 2Ah–240Ah, and won't overcharge or damage vehicle electronics. They're also designed to be more effective than 'traditional' solar chargers, with current delivery that depends on how much sun reaches the panel and, on cloudy days, can even draw power from the battery, instead of charging it.
COMPLETE
Each kit includes a high intensity polycrystalline panel with a 2M power cable, an OptiMate O-01 weatherproof battery lead, set of OptiMate O-04 battery clips and the outdoor-rated OptiMate smart charger-controller (TM-522) with a 1M charge cable. The solar panel comes with pre-drilled corner mounts for easy wall or roof mounting. The panel, smart controller and battery lead are all weatherproof and have been tested to -20°C.
CHOICE
OptiMate Solar Modular Charge kits come in five versions: the 10W TM-522-1 (12V 0.8A max) is suitable for most motorcycles and retails for £104.99 including VAT.
The larger 20W TM-522-2 (12V 1.6A max) will charge most automotive 12V batteries and costs £136.99. If more power is needed, there are 40W, 60W (TM523-6) and even 80W kits, which include the higher power rated TM523 charger-monitor. All Solar kits are covered by a 3-year warranty for complete peace of mind.