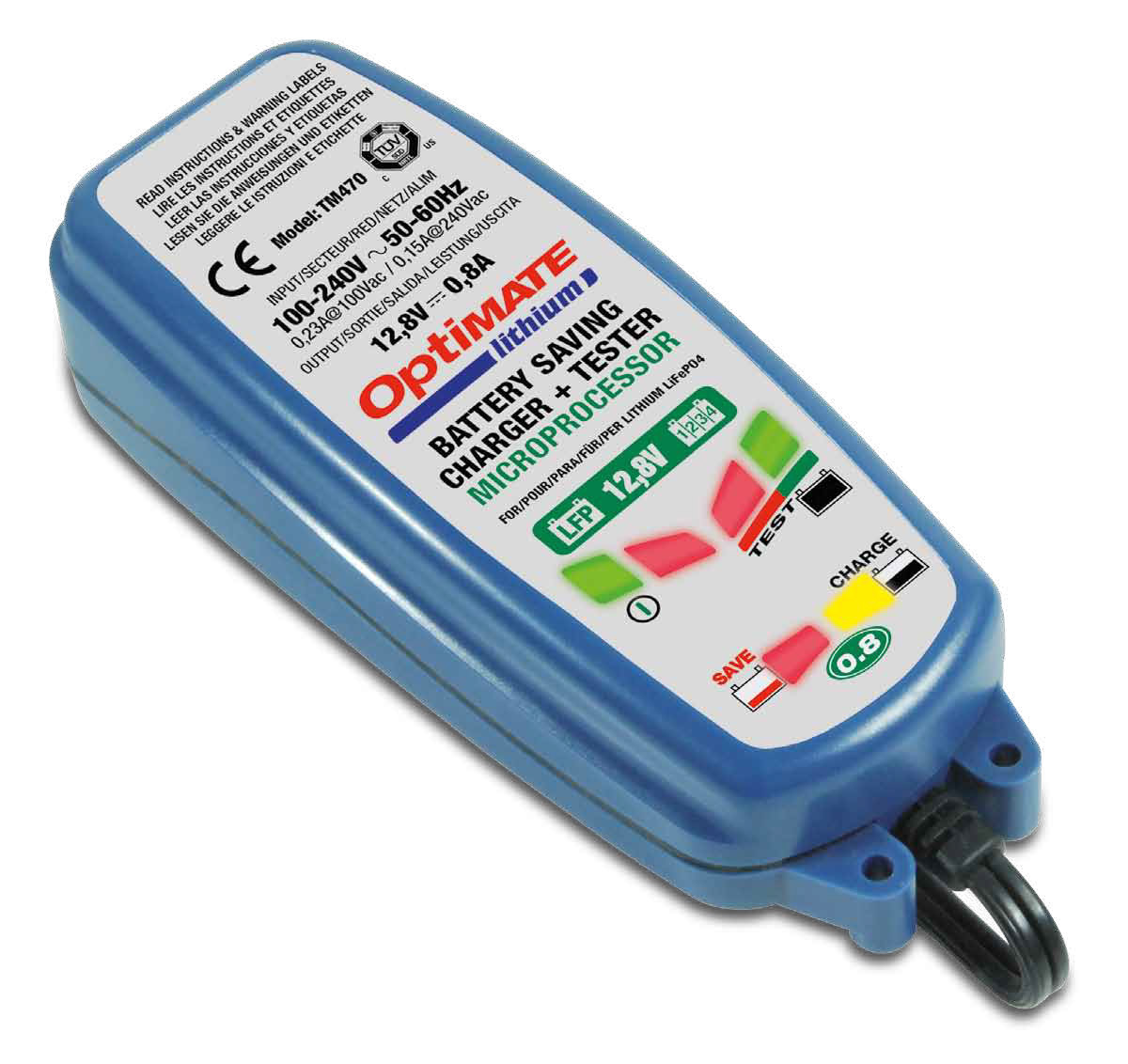 OptiMate pioneered the concept of battery maintenance for motorcyclists in the mid-1990s. Since then motorcycle electrical systems have evolved rapidly, with the introduction of CAN-Bus, ECU updates and lithium technology. As a result, there is no longer a one-size-fits-all charging and maintenance solution for bike batteries.
OptiMate's continuous evolution/development has resulted in an extensive range, capable of offering owners of almost any bike or scooter safe and simple long-term battery care and maintenance.
OptiMate2 is the cost-effective solution for long-term maintenance of 12V motorcycle batteries. OptiMate2 charges and maintains the battery, while simultaneously powering the bike's on-board computer, display or anti-theft alarm. It's fully automatic and has overcharge, reverse polarity and spark protection.
OptiMate3 Global is designed with a wide range input (100-240V, 50-60Hz) that works with mains electricity around the world. It diagnoses, charges, tests and optimally maintains all types of 12V lead-acid batteries rated from 3 to 50 Ah. It can also  recover severely neglected batteries from as low as 2 Volts.
OptiMate4 Dual Program includes two charging programmes; one is for direct charging of a battery via the terminals or an adaptor cable; the other allows safe and unsupervised charging through a  motorcycle's CAN-bus controlled 12V socket. OptiMate 4 Dual Program tests before and after charging and can recover a battery from as little as 0.5 Volts.  The CAN-bus edition diagnoses, recovers, charges, tests and maintains the battery via the 12V port on CAN-bus equipped bikes. Keyless activation means it will charge and maintain the battery automatically until it is disconnected. It can also recover badly neglected, sulphated batteries.
OptiMate5 Voltmatic recovers 6V lead-acid batteries from deep discharge, and can also charge and maintain medium to large 12V batteries. OptiMate 5 identifies whether a battery is 6V or 12V, runs tests to see whether it requires desulphation or bulk charge, then equalises the voltage in each cell. It's compatible with STD lead-acid, sealed AGM 'maintenance free', GEL and spiral cell batteries.
OptiMate6 Select is designed to be used on bikes with update and diagnostic modes, and has a built-in power supply to ensure there's enough charge in the battery for uninterrupted downloads, updates and troubleshooting. It prepares the battery before updates take place, delivers accurate temperature-compensated voltage and current, and warns if current draw is likely to cause battery voltage to drop too low.
OptiMate also offers a choice of chargers for lithium batteries. Compact and lightweight, yet delivering high cranking amps, lithium batteries are an increasingly popular choice for motorcyclists on road & track, but are considerably more expensive than lead acid units. Maintaining lithium batteries is crucial, because once discharged they can be difficult to recover. However, regular 12-volt chargers for lead acid batteries should not be used, due to different charging curves and thresholds.
Lithium (LiFePO4) batteries contain 4 x 3.2V cells, providing a total nominal voltage of 12.8V, compared to a 12V lead-acid battery, which has 6 x 2V cells.
OptiMate's Lithium 0.8A assesses battery condition and selects the charge programme to suit: Bulk Charge for rapid recovery and Save mode to safely recover over-discharged batteries. The Lithium 0.8A is also designed to reset the internal BMS (Battery Management System) on batteries with a low voltage cut-out so that charging can begin.
The OptiMate Lithium offers all of the above, with the added benefit of a faster 5A charge cycle – ideal for racing & trackday applications, when electric systems are run on a total-loss basis.