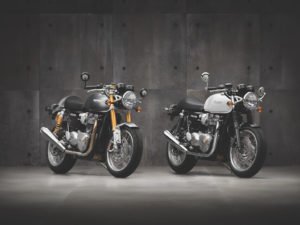 Pidcock Triumph, which has been trading in Long Eaton, Derbyshire, for more than 45 years, is expecting a bumper year of sales after moving to a new flagship store on Nottingham's Tamworth Road.
With more than 7,000 square feet of retail space, the new dealership – which will be officially opened as part of Triumph's national TFEST weekend (23-24 April) – employs seven people and is optimistic about its future growth plans.
Going forward, Pidcock Triumph will take on a more modern and high-end look, satisfying the increasing demand from riders for a truly sophisticated retail experience. This fresh environment will provide customers with an innovative way of engaging with the growing range of bikes, enabling riders to really appreciate the significant engineering touches that go into Triumph motorcycles.
Dave Munt, general manager at Pidcock Triumph, commented: "The move to a new, larger store is a natural progression to meet the growing demand for Triumph motorcycles. The range of bikes has increased hugely since we first started trading with Triumph, and 2016 promises to be a busy year with Triumph launching a number of new bikes."
The recently developed store features an onsite café, offering customers a place to meet up and relax before their next ride out. Destined to become a hub for the Nottinghamshire and North Leicester regions, Pidcock Triumph also stocks the very latest ranges of exclusively-branded Triumph rider and casual wear, as well as motorcycle accessories.
Paul Lilly, general manager of Triumph UK, said: "Pidcock Triumph perfectly represents Triumph's vision of new-look stores, which are being rolled out across the UK as we speak. These are a hugely exciting part of our brand development strategy, positioning Triumph as a truly desirable premium brand. The Triumph customer experience begins on entry to the store, with a welcome feeling of being part of an authentic lifestyle, ensuring pride in owning a part of the Triumph brand – whether that be a motorcycle, clothing or merchandise."