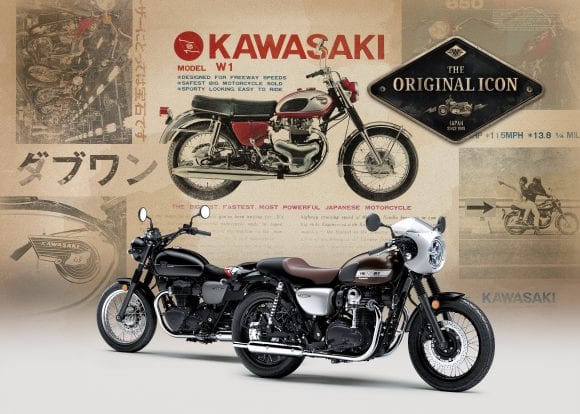 Earlier this month Kawasaki revealed plans to revive one of the most enduring and identifiable Kawasaki brands in the form of the new W800 Street and W800 CAFE parallel twin, air-cooled motorcycles.
We are pleased to announce that the first European public unveiling for the new 2019 Kawasaki W800 Street and W800 CAFE will take place at 2018 Motorcycle Live from 22nd Nov.
Having little in common with previous iterations, the newly born Euro4 compliant twins are "90% new" with a whole host of styling, technical and practical changes, many of which are, at first, hard to detect. Sharing a completely new chassis, each machine has powerful new brakes – including a rear disc for the first time on a W – as well as ABS and, in another nod to contemporary riding, LED lighting.
Celebrating the fact that "original never goes out of style" both the stripped for action 773 cm3 bevel driven camshaft W800 Street and W800 CAFE can trace their roots back over half a century to the original 1966 W1 650; at the time the largest capacity four stroke machine manufactured in Japan.
Fully A2 licence compliant and with a targeted maximum power of 35kW*, the authenticity, classic style and seductive good looks of the new W800 Street and W800 CAFE are sure to attract new riders… as well as tempting existing licence holders who appreciate classic style and carefully considered simplicity of form and function.
* Targeted figure subject to final homologation