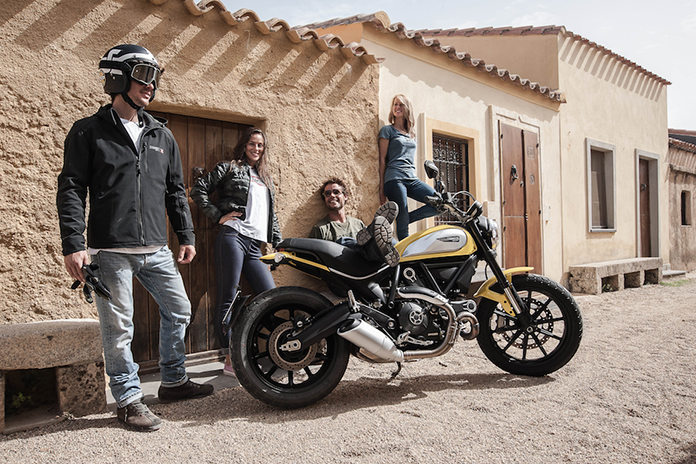 The Ducati Scrambler is the most beautiful bike of the 2014 EICMA show. This decision was made by 43% of more than 10,000 fans who took part in the competition organized every year by Italian magazine "Motociclismo". The result came from a survey among visitors with a form to be filled out either directly at the show or on its web site. The Ducati Scrambler was the most popular choice, both at the show and online, and has won with almost three times the votes of the second place bike which took 15%.
The prize giving took place at the Motociclismo stand, as the show came to a close, and was attended by Pierfrancesco Caliari, (General Director of Confindustria ANCMA – EICMA), Piero Bacchetti (President of Edisport Editoriale srl and Motociclismo Managing Director), Marco Riccardi (Motociclismo Chief Editor), Andrea Ferraresi (Ducati Design Centre Director) and Julien Clement (Ducati Scrambler Designer). The prize for "Most Beautiful Bike of Show" was the final act after an intense week of exhibitions and events that saw an increase in visitors of approximately 25% compared to 2013, a clear indication of recovery for an important, leading sector such as motorcycles, which is particularly suffering during the current economic crisis.
During the Milan show, the Ducati Scrambler stand was visited by tens of thousands of fans who were able to experience first-hand the joyful and laid-back atmosphere, characterised by the now legendary yellow containers and green lawn, alive with bikes, music and fun. The Ducati Scrambler is, in fact, not just a new motorcycle but a brand that will flank Ducati, and that aims to transmit the joy of bike riding to every generation of biker, with a range for all ages customers, leaving room for creativity and personal freedom of expression.
The extraordinary ease of use of the Ducati Scrambler is down to the skilled balance between its extremely contained weight, just 170 kg dry, an 800 cm³ air-cooled twin cylinder engine equipped with surprising torque even at low speeds and offering 75 hp, a seat height of just 790 mm (that can be further reduced to 770 mm) that allows full control of the bike and a riding position that, thanks to the high and wide handlebar, is particularly comfortable and relaxed.
The Ducati Scrambler is available in four versions: Icon, yellow and red; Urban Enduro, characterised by its "Wild Green" colour, for those who love dirt biking and are always ready for any kind of road; Full Throttle, for fans of "flat track" racing; Classic, for those who love details and 1970s style but don't want to compromise when it comes to the riding enjoyment and comfort offered by a contemporary bike. Thanks to the wide range of available accessories, each Ducat Scrambler can be personalised even more, allowing fans to express their own creativity. During the Milan show, visitors were also able to appreciate the new Ducati Scrambler apparel collection, which presents numerous ways to experience the Scrambler world to the full. Ducati Scrambler is a new universe, ready to be discovered and explored.
The Ducati Scrambler will be in Ducati Delearships starting from the end of January 2015.