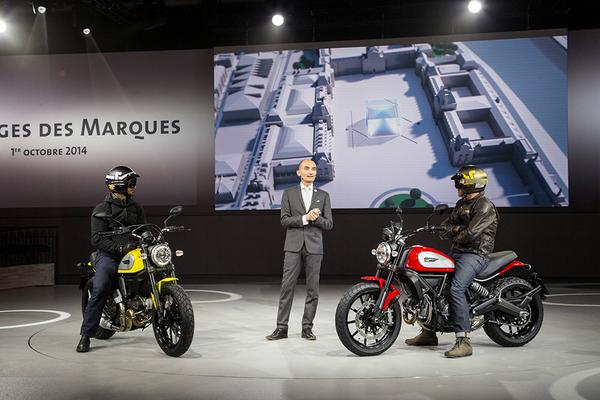 The world of Ducati Scrambler has already generated significant interest among fans. On Tuesday 30 September the new Ducati brand was officially presented to the public at Intermot, unveiling four versions of the Scrambler.
The Icon, Full Throttle, Urban Enduro and Classic Scramblers captured the attention of the large audience attending the Intermot press conference and have been enthusiastically received in the UK since its unveiling.
Ducati UK is now able to confirm the pricing for the Ducati Scrambler line-up which should see the first bikes arriving in Ducati Dealerships from the end of January 2015 and the first of the four versions to become available will be the Icon.
Scrambler Icon (Red)                              £6895
Scrambler Icon (Yellow)                          £6995
Scrambler Full Throttle, Urban Enduro and Classic               £7995
For further information on the Ducati Scrambler world go to http://www.scramblerducati.com or the Scrambler Facebook page https://www.facebook.com/scramblerducati and share the content through #scramblerducati or #scrambleryouare