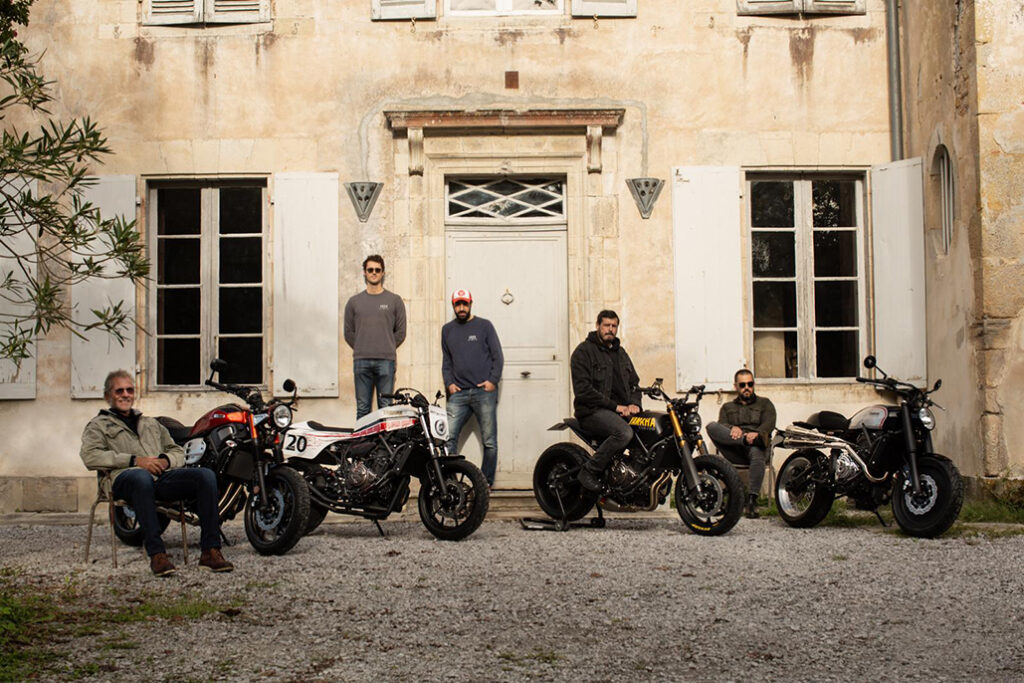 Yamaha Sport Heritage – the latest new generation of Yard Builts launched
Every rider has a vision for their own dream bike. For some, the dream becomes reality. Yamaha's Yard Built project works with the world's best custom specialists to transform Sport Heritage models into a unique and visionary Yard Built Special. Since 2014 the Yard Built project has unleashed the imagination of the biking world's most creative minds – and the results have been absolutely stunning. Each Yard Built creation showcases not just the remarkable engineering and artistic skills of today's custom builders; they also demonstrate the adaptability of a stock Yamaha, inspiring every rider to make their Yamaha their own.
Yamaha's neo-retro Sport Heritage models take inspiration from some of the brand's most iconic models that have influenced motorcycle design philosophy over the last seven decades. Combining state-of-the-art technology with timeless designs, Yamaha's Faster Sons philosophy is the driving force that has produced these exciting and charismatic models that capture the true essence of motorcycling and bring joy to many riders.
Recent XSR700 Yard Built projects include Back to the Dirt, which explored 70s and 80s rally-inspired bikes, and Back to the Future, which produced a range of retro-futuristic machines envisaging a totally new concept of the motorcycle.
Back to the Drawing Board
In January Yamaha Motor Europe announced Yard Built: Back to the Drawing Board. Using the Yamaha XSR700 as a platform, for the first time in Yard Built history drawers could design their dream XSR700. It opened the door for anyone to design their dream XSR700 and be in with a chance for it to be produced and join the ever-growing ranks of incredible Yard Built creations. By giving creative control to the consumer, the latest project aimed to showcase the very best in creativity from Yamaha fans inspired by their passions and most memorable experiences with the brand.
Four incredible designs from France, Italy, Portugal and Spain were selected by an open casting that promoted the creativity of Back to the Drawing Board and sought to understand future motorcycle trends. One design from each participating country was chosen by a jury composed of a local Yamaha distributor, a local customizer and a motorcycle journalist, and then brought to life by a customizer.
The Drawing Board Becomes Real
With a challenging and unique brief for Back to the Drawing Board, the four bike builders met the task with incredible skill and design work.
From France, drawer Barbara Motorcycles produced a design for the XSR700 'Disruptive', an aggressive machine that paid tribute to Yamaha's American Flat Track days of the 1970s.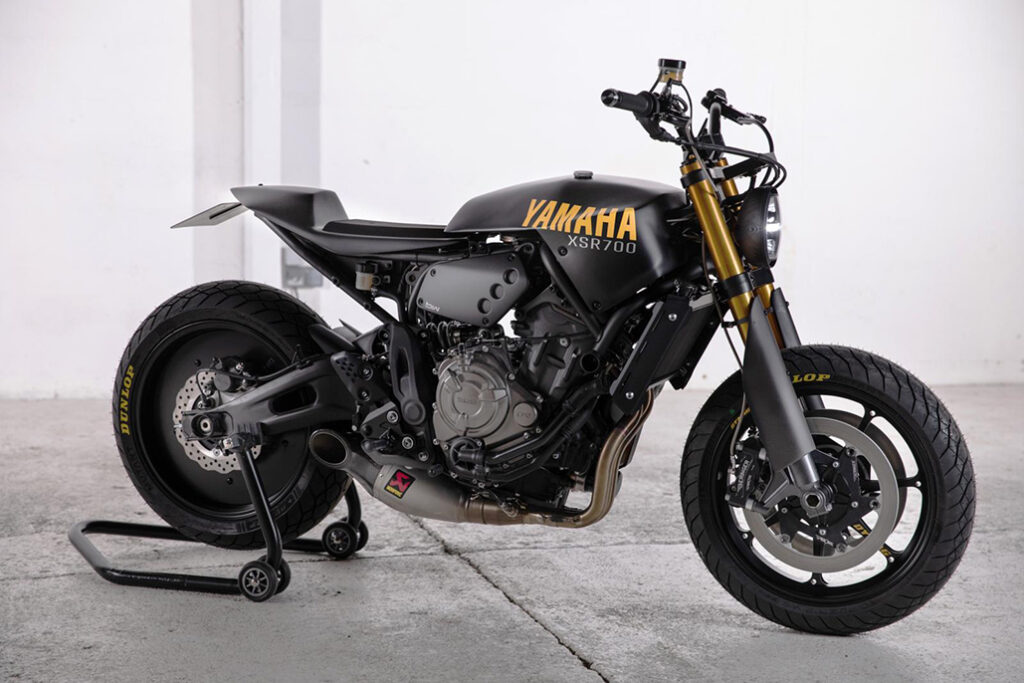 Tasked with creating the bike in the flesh was Paris-based builders Bad Winners, founded in 2011 and with an already-strong pedigree in Yamaha custom builds. From its overhauled cockpit to its muscular tank and slim seat unit, the Disruptive is a brooding bike with a racing attitude and looks to match. Featuring striking gold Yamaha lettering on its matte black body panels, a solid black rear wheel and sharp belly pan, the Disruptive is purposeful in its appearance and a classic example of taking the retro XSR700 to the next level.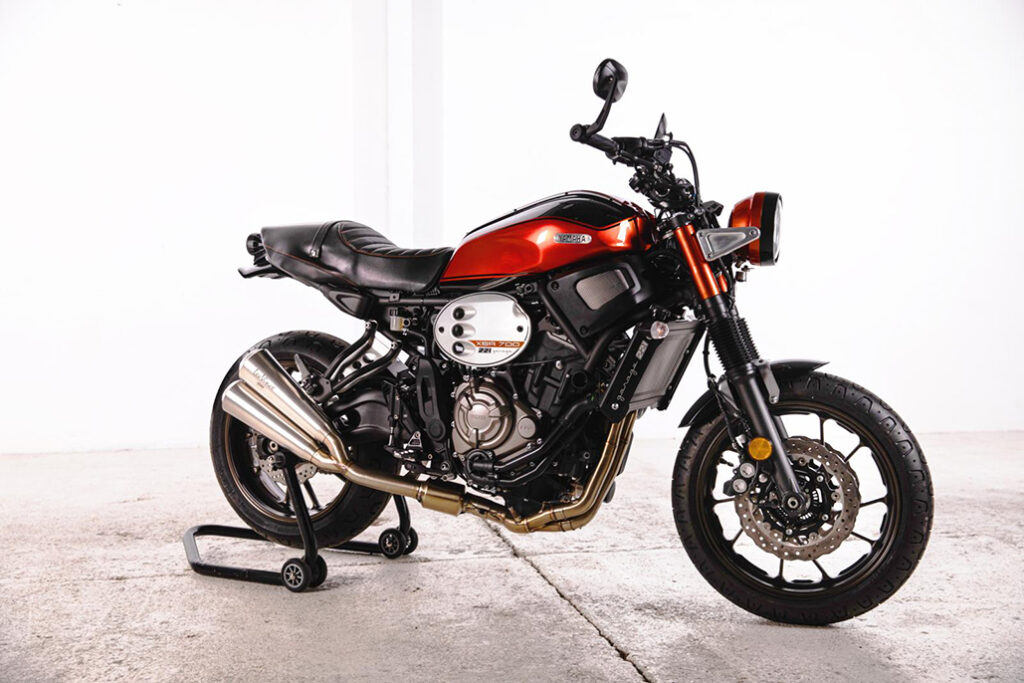 Italian entrant Ugo Coppola drew the striking 'RD250 Tribute', an orange and black adaptation of the classic 1970s Yamaha RD350 that utilised parts from a range of modern Yamahas. Rome-based builders Garage221, passionate about customizing bikes to reflect their rider, realized Ugo's design in stunning detail and precision. Making use of parts such as the MT-07 steering assembly, XJR1300 seat unit and XSR700 fork bellows, they produced a highly innovative Yard Built that mixes scrambler and street bike aesthetics. In overhauling the XSR700 to resemble the RD350, they truly captured the look and feel of a retro '70s Yamaha in a 21st century skin.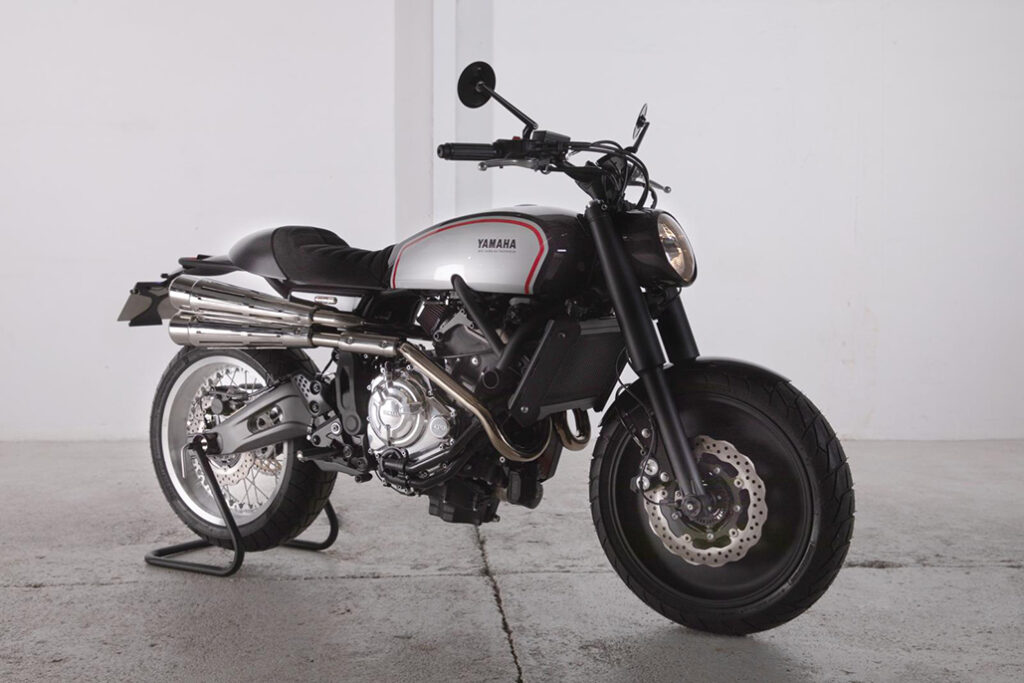 From Portugal, builder RUAMACHINES created the 700GT from the designs of their customer Tony Manuel Oliveira Querios, who was inspired by his father's XJ400. RUAMACHINES took an innovative approach to the project, exploring Yamaha's history and finding inspiration in the 1960s Yamaha YR-2 and YR-3 scramblers. With most of its exterior parts swapped out for completely new custom additions, the 700GT cleverly mixes modern art touches with classical motorcycling looks, from its solid black front wheel, its aggressive under-the-seat pipes and unique black and white livery. Its rugged scrambler looks make the 700GT a testament to Yamaha's heritage and to the versatility of the Sport Heritage XSR700.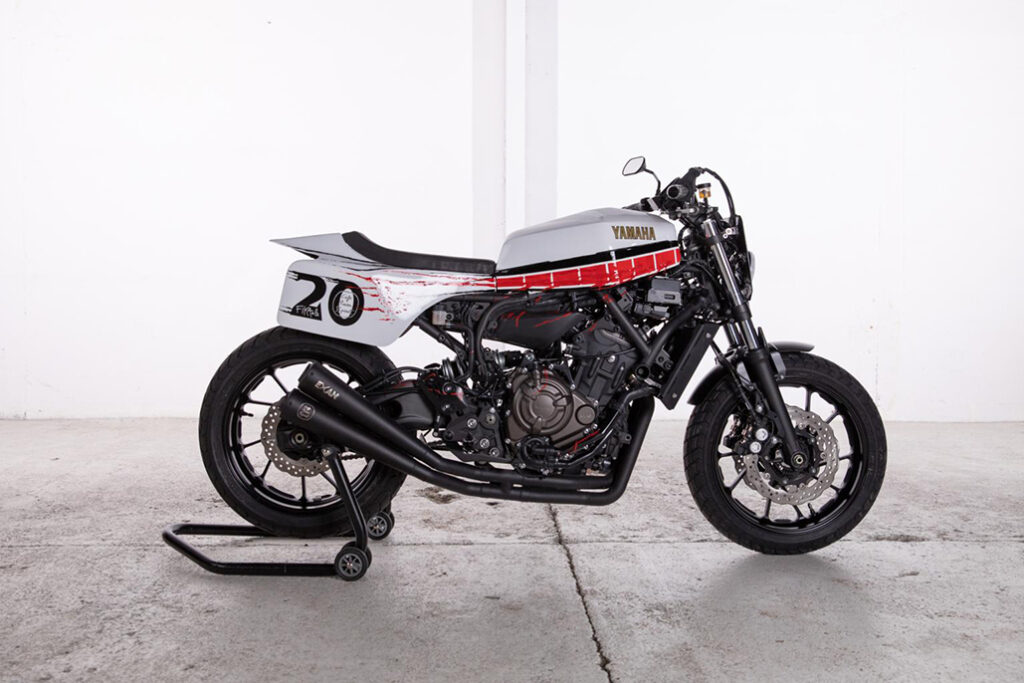 Spanish entrants Alex and Claudio Monge designed the eye-catching XSR700 'Red Tail', a blend of motorcycle racing and flat track aesthetics that was then built by Café Racer SSpirit (CRSS) of the Bay of Biscay. Going for a stripped-down, naked look, the Red Tail features stunning avant-garde lines mixed with classical bike details, from its custom headlight mask, aggressive twin pipes to its eye-catching number plate. Its retro vibes capture exactly what the Sport Heritage range is all about, and features a bold livery with splashes of red paint to really Rev the Heart and pay homage to the Yamaha Racing colours used in the 1970s.
Unveiling
The chosen builders and their completed bikes were invited to a special event in September at the beautiful location of La Mayou, a Chateau-Gite located in Biarrote, France. Situated in the wonderful landscape between the Landes and Pays Basque, the Chateau perfectly fit the atmosphere and mood of the latest Yard Built project, blending classical surroundings with modern machinery for an exciting new chapter in Yard Built history.
YME also wish to give thanks for the support from Nexx , SPIDI and 100%..
Fasters Sons Apparel and Genuine Accessories
Yamaha has developed a wide range of Genuine Accessories for the Sport Heritage models, including performance, comfort and stylistic parts that enable every owner to create their very own unique motorcycle. Customers can purchase each part individually, or they can save time and money by opting for one of Yamaha's specially created Accessory Packs that are designed to suit differing requirements.
The Faster Sons apparel collection takes inspiration from Yamaha's iconic past with a range of clothing designs featuring a cool retro look. With the perfect blend of vintage influence combined with modern materials and washed-out looks, the Faster Sons line looks and feels good whether you're on your bike or relaxing with friends. The Genuine Accessory and apparel range is constantly evolving, and full information can be seen at www.yamaha-motor.eu
MyGarage app
Yamaha's MyGarage is a quick and easy way to personalize your own Yamaha, allowing you to experiment with different combinations of Genuine Accessories and see what suits their style best. With the MyGarage app anyone can instantly create their dream Sport Heritage bike, and view it in full 360 degrees in high definition. MyGarage means you don't just have to imagine what your dream Yamaha will look like, you can realise it. By choosing the right parts for you in advance, your selections will be passed to your Yamaha dealer who will supply and fit the selected Genuine Accessories.