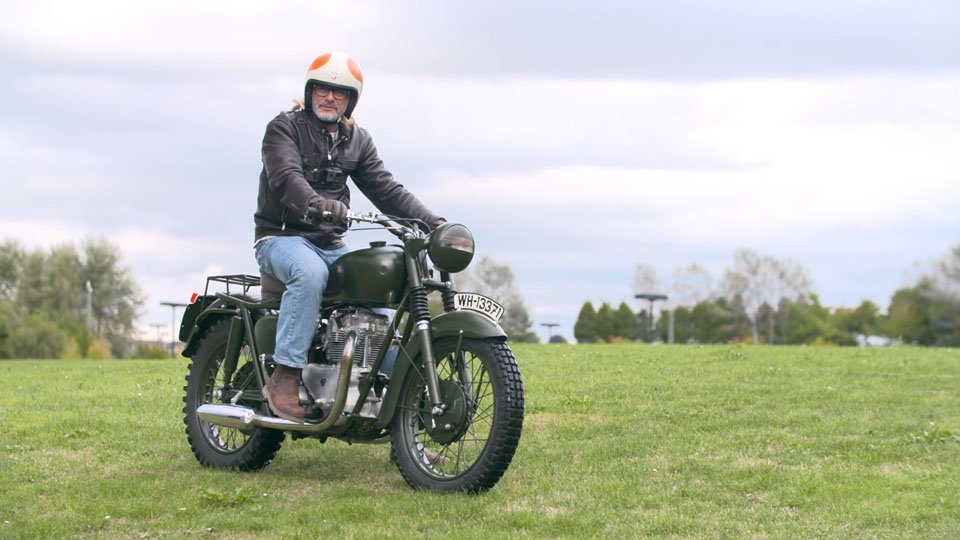 The Motorbike Show returns on ITV4 in December, with three 60 minute specials, featuring Triumph, Norton & Ducati.
Triumph:  In the first of a series of three brand new Motorbike Show specials, Henry Cole tells the story of Triumph, the world's oldest production motorbike brand. He explores fascinating back histories of their most iconic models – including the Bonneville, Thunderbird and Daytona – and visits the Triumph factory at Hinckley to discover how today's bikes are built.
Norton:  In the second Motorbike Show special, Henry tells the compelling tale of Norton, one of the world's greatest racing manufacturers. Starting in a small factory in Birmingham, Norton rose to dominate the Isle of Man TT and the international racing circuit. Featuring interviews with designers, engineers and famous riders, such as Trevor Nation, as well as rare archival material, this is a must-see for all British bike fans.
Ducati:  In the final Motorbike Show manufacturer special, Henry Cole flies out to Bologna in Italy to explore how Ducati's innovative engineering enabled them to produce world beating bikes. Including some of Ducati's most successful racers, such as Carl Fogarty and Paul Smart, there's plenty of passion in this series finale.
The Motorbike Show, Triumph special, is on ITV4 at 9pm on Tuesday 11th December
The Motorbike Show, Norton special, is on ITV4 at 9pm on Wednesday 12th December
The Motorbike Show, Ducati special, is on ITV4 at 9pm on Thursday 13th December
You can catch up with episodes on the ITV Hub at https://www.itv.com/hub/the-motorbike-show/1a9745