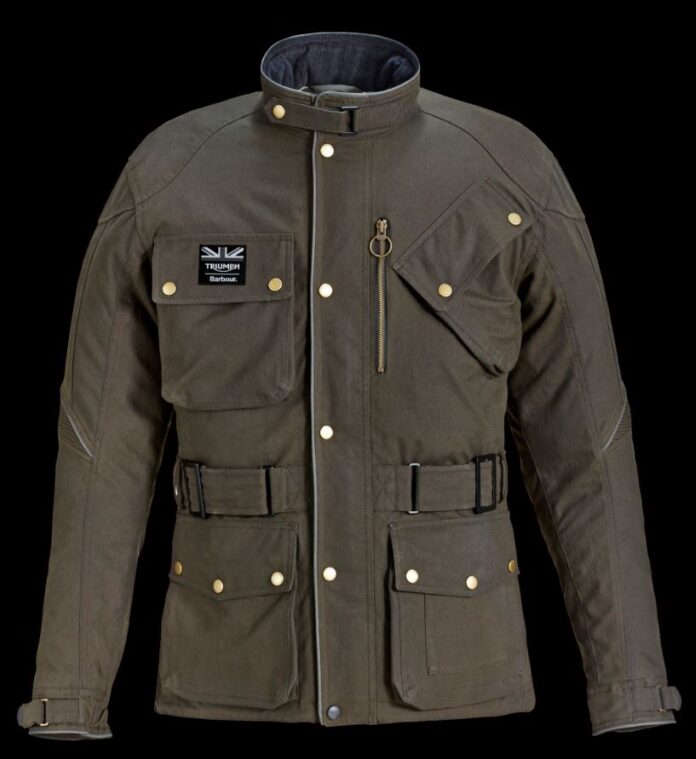 Combining winter riding gear with the latest in urban-cool style, biking and fashion fans alike can enjoy their favourite motorcycle brand with Triumph Motorcycles' winter clothing collection.
Whether an avid rider yourself, or someone looking for the perfect Christmas present for the bike fanatic in your life, Triumph's latest range is packed full of stylish, seasonal apparel.
Mens' and Ladies' Barbour jackets
Combining the best of two iconic British brands, Triumph's ongoing collaboration with legendary fashion label, Barbour International, has resulted in a stunning 'his and hers' all-weather jacket pairing. The mens' winter 2015 jacket (£320) is a modern interpretation of classic style, combining a waxed cotton outer with fixed TriTex waterproof, windproof and breathable lining to make it the perfect all-weather number. The ladies equivalent (£300) is cut from the same material, but has been designed to give it a more tailored fit. Both jackets are fitted with D3O armour, combining riding protection with comfort.  Jackets also feature adjustable waist, hem and cuffs, along with night reflective piping and a short connection zipper, enabling attachment to all Triumph jeans.
RRP: £320 (men)/ £300 (ladies)
Triumph's latest footwear range ensures riders are able to get the look from head-to-toe, perfectly blending practicality and style. With water resistant leather and a TPU high abrasion sole, Triumph's Classic Boot (in both black and brown) (£130) is perfect for kickstarting your winter adventure.
RRP: £130
Ladies black sequin scarf and hat and custom hoody  
With Triumph's new range, staying warm has never looked cooler, with both the ladies black sequin scarf and hat (£40) and custom hoody (£58) both combining fashion and functionality for the ultimate winter-ready items.
Scarf RRP: £40/ Custom Hoody RRP: £58
Bathrobe and gift set
Looking to put your feet up after a long day's ride? Triumph has got your back! The luxuriant GB bathrobe (£59) and Triumph gift set – including mug and keyring (£30), mean you can rock the look… even when it's time for bed.
Bathrobe RRP: £50
Gift Set RRP: £30
The new clothing range is available from official Triumph dealerships now. Find out the location of your nearest stockist here. For more information about these and the rest of Triumph's latest range, visit the official website here.