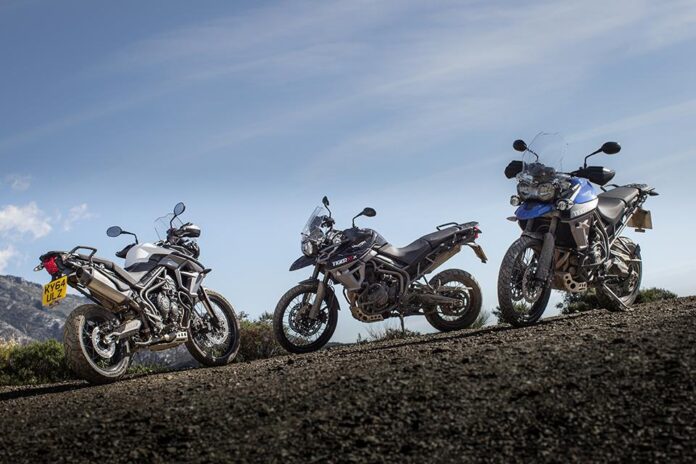 Leading large-capacity motorcycle manufacturer, Triumph, is celebrating its most successful year ever, after recording a record volume of 8,128 UK bike sales. Taking the top spot once again in the <500cc market, the Hinckley-based firm is continuing to dominate the industry.
Between January and December 2014 alone, the Great British brand continued to maintain its 18.7% share of the UK marketplace, complemented with a host of new model launches. Compared to the same period in 2013, this confirms an 8% year-on-year increase – meaning that nearly one in every five new large capacity bikes sold across the country is a Triumph.
Alongside continued investment in people and processes, the launch of 13 new bikes across the adventure, roadster and cruiser markets has firmly placed Triumph in the hearts and minds of Britain's biking community. From three new special edition Bonnevilles and a custom version of Triumph's iconic Thunderbird (launched at Intermot in October), to an all-new Tiger 800 family (unveiled at EICMA in November), the leading manufacturer continues to embrace the latest in innovative design, style and riding technology.
Reflecting an industry-wide trend towards easy riding, stylish machines, Triumph's classics have seen the greatest increase in sales over the year. The Bonneville Scrambler, for example, has seen figures soar by more than 84% compared with the same period in 2013, while more than 200 additional models of its T100 cousin have rolled off production year-on-year. In addition, sales of Triumph's off-road adventure icon, the Tiger 800XC, have increased by 24%, while figures for the 1,200cc Explorer XC have shot up by more than 54%.
In addition to a host of new models, the introduction of TriStar, Triumph's easy way to finance your motorcycle, has given riders a simple and affordable way to take to the road on their dream bike – playing a key role in driving this positive growth. A flexible Personal Contract Purchase Finance Product (PCP) purchasing programme, TriStar makes investing in a new model more accessible than ever before.
"2014 has been a hugely successful year for Triumph Motorcycles," commented Rick Cawley, general manager of Triumph UK. "Alongside unveiling a number of new bikes, accessories and riding wear ranges, we've announced partnerships with The Distinguished Gentleman's Ride, Bike Shed Motorcycle Club and Barbour International; three key names in global motorcycling that will allow us to engage with riders and support worthy charity causes at the same time.
"The industry is undoubtedly experiencing its most successful seasons in over five years, a true reflection of the burgeoning confidence in the UK economy and demonstrates that riding is regaining popularity as a leisure pursuit, as well as a stylish option for the urban commuter.
Further afield, global figures from the Triumph Group show a 4.5% year-on-year increase in unit sales, with a managed accounting loss of £8m due to unrealised exchange rate loss, planned overseas expansion costs and ongoing investment in new models. Group turnover totaled £364 million, while total unit sales rose to more than 54,000 – compared to just over 52,000 in the preceding year.  This reflects the group's long-term vision, a theme reflected by significant ongoing investment in people, product and facilities to retain a leading position in the development and production of class-leading, large capacity motorcycles