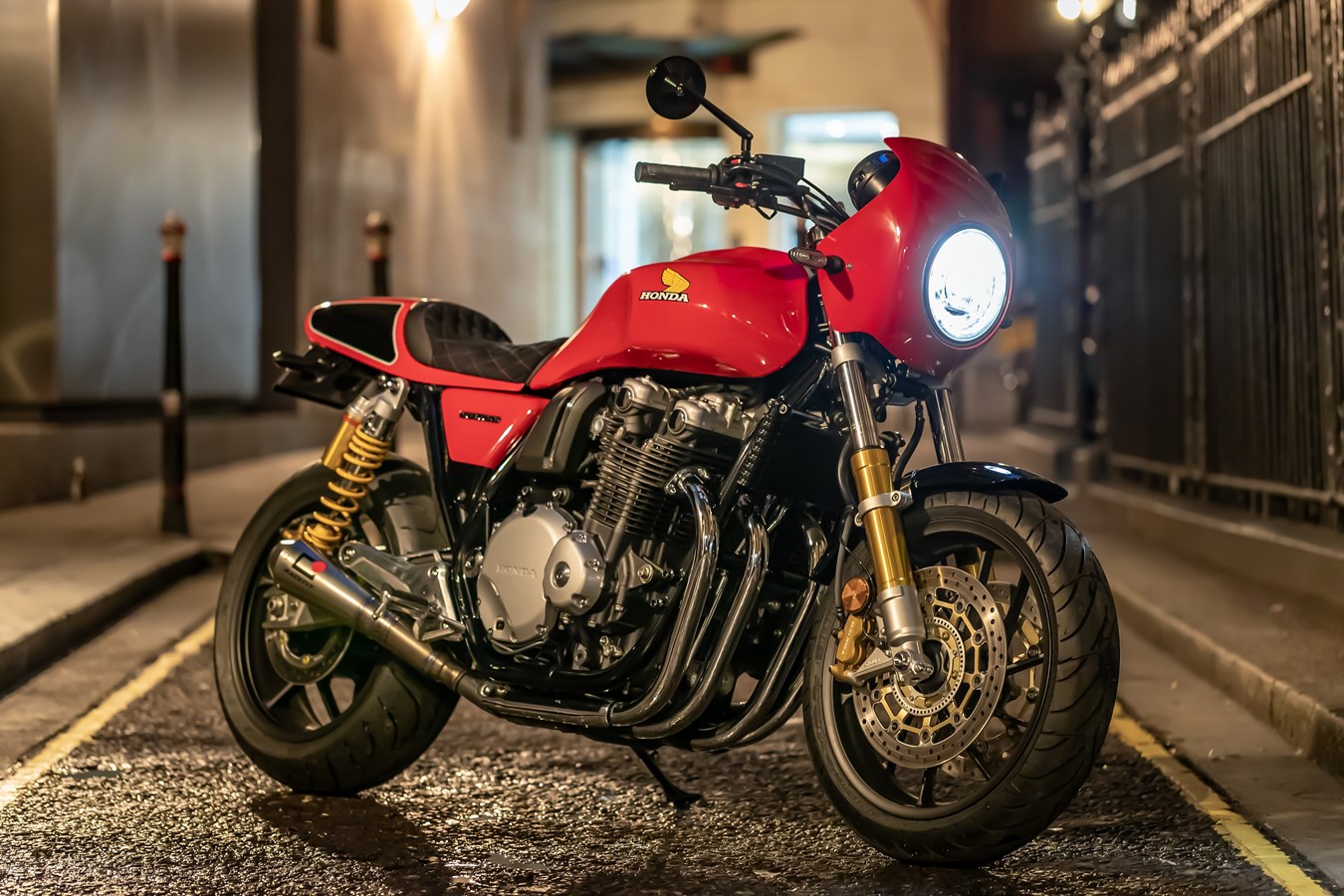 1969. A seminal year for motorcycling as the inline four-cylinder Honda CB750 took centre stage, wowing the world and laying down a superbike blueprint that still stands today.
Click forward five decades and Honda maintains the legacy and spirit of that original CB with two air-cooled four-cylinder machines – the CB1100 EX and CB1100 RS. Manufacture of both takes place in the Kumamoto factory, with a production process that integrates technology and expert skill in order to create motorcycles rich in craftsmanship and attention to detail.
2019. To coincide with 50 years of the CB750, Honda UK – with a huge nod of respect to such long and storied history – has partnered with 5Four Motorcycles and commissioned a limited run of unique custom motorcycles, based on the CB1100 RS.
The stripped-back and lean CB1100 RS already has the look of a golden-era race tool, with more than a hint of café racer and sporty steering geometry, matched to high-quality Showa suspension, front radial-mount four-piston brakes and cast aluminium 17-inch wheels.
But for Guy Willison, the creative force behind 5Four Motorcycles – a professional bike builder who has found two-wheeled TV fame on The Motorbike Show but who has also been a despatch rider, mechanic and tuner in his time – the CB1100 RS holds the capacity to become something truly special, as he explains:
"5Four Motorcycles was created to move away from the one-size-fits-all standard and to build thoroughbred machines with cool design, a statement of individualism, quality, performance and exclusivity. From the moment I first saw the CB1100 RS I knew it had the potential to be a thoroughbred, single seat, point-and-squirt A and B road blaster. So we're making a strictly limited production run of 54 CB1100 RS 5Four motorcycles, each individually numbered. The number is etched subtly into the number 5 of the nickel plated 5Four badge which itself is inset into the tailpiece. And the paintwork had to hark back to the period in my youth when Honda dominated World Endurance Racing with their Red, White and Blue Works racers; there are no stickers or transfers – even the retro Honda logo and Wing are lovingly hand-painted. We're passionate about this motorcycle. We have just selfishly designed and built it and it stirs us when we walk up to it and we don't want to leave it at the end of a day's riding." And why 5Four? Simple: "That was my despatch call number…"
Willison's long perspective on motorcycling (and the details that elevate his work) are obvious on his exquisite creation. Every component on the CB1100 RS 5Four could be a work of art in its own right, easily displayed in a spot-lit cabinet. And each detail has been chosen to enhance each sensory contact the owner has with their machine whether it be visual, auditory or actual physical contact.
The CB1100 RS 5Four's riding position has been tailored using Renthal Ultra Low handlebars, Tomaselli racing grips, short racing brake levers and beautiful billet mirrors, all finished in black. The single seat is handstitched Alcantara and leather in a diamond stitch pattern. The footrest hangers are mirror-polished aluminium.
There's no plastic to be seen either; the wind-cheating handlebar fairing and single seat tail unit are both handcrafted from aluminium. A pair of titanium Urban Growler end-cans* from Racefit – the quintessentially British exhaust manufacturer – are beautifully welded and engineered to look stunning and provide a deeply distinctive, spine tingling sound.
Ordering a CB1100 RS 5Four is easy. A quick call to a local Honda dealer with a deposit secures a place in the line; Honda will then confirm an estimated delivery date with the dealer as well as the number of the bike. As each is hand-built to order this is likely to be around three months. List price is £15,554.
When the bike is ready the new owner can either collect it from their dealer or complete the paperwork at the dealer and arrange to collect the CB1100 RS 5Four from Corby, where the bike will be handed over personally by Guy (subject to availability). Honda Finance can also offer finance in the form of PCP or personal loan; full terms and conditions are available from your Honda dealer.
Additional information, including a video interview with Guy Willison, is available on www.hondaengineroom.co.uk/bikes/5four
 * Technical specifications and appearance of CB1100 RS models are subject to change at any time
HONDA CB1100 RS 5Four SPECIFICATIONS
Limited production run (of 54 units) based on the standard CB1100 RS.
Stunning 1980s works endurance racer-inspired paintwork.
Each machine individually numbered with 5Four badge.
Handmade aluminium single seat tailpiece with handstitched diamond-pattern Alcantara and leather seat cover.
Handcrafted aluminium handlebar fairing.
Racefit 4-2 Titanium end-cans*.
Slimline mirrors, short colour-coded race brake/clutch levers, Tomaselli racing grips and Renthal Ultra Low handlebars.
Mirror polished aluminium footrest hangers.
*For circuit use only.