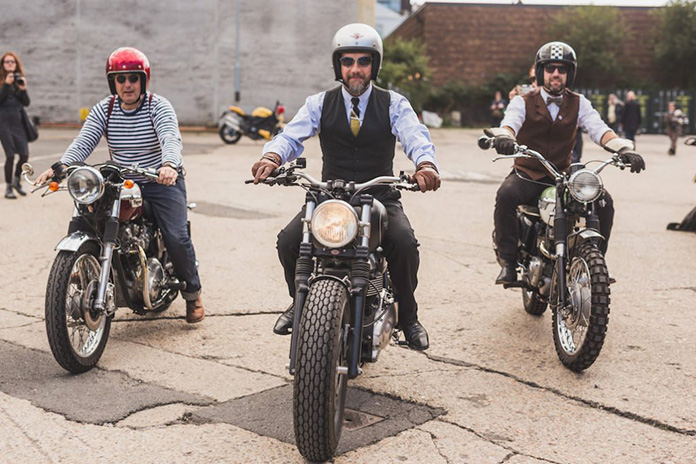 The UK's leading large-capacity motorcycle manufacturer, Triumph, is proud to announce it will once again partner with the Distinguished Gentleman's Ride (DGR) for its international charity rideout. Taking place on Sunday 25th September, this year's event will mark the third time in a row Triumph has supported the ride.
Founded in Sydney, Australia, the DGR aims to create a positive image of men on motorcycles, while raising money for a worthy cause. Thousands of gents and ladies will take to their vintage styled motorcycles, donning their silk cravats, tweed jackets and tweaked moustaches, in order to raise awareness and funds for suicide prevention programs and prostate cancer research.
Mark Hawwa, founder of the DGR, commented: "I really wanted to change the perception of men on motorcycles and show that we do in fact have sophistication and style. We are an inclusive and friendly community. Having fun and a smile is what it's all about!
"Since the first rideout in 2013, the event has grown exponentially, with over 37,000 participants taking part globally last year. As well as continuing to raise money for prostate cancer research, we are also focusing our health goals on suicide prevention for 2016, following the tragic loss of one of our ride hosts to depression.
"Triumph has been a fantastic supporter for DGR and we're excited to continue this partnership. An authentic motorcycle brand, Triumph provides the classic style that we're trying to achieve."
Martin Hough, marketing manager of Triumph UK & Ireland, commented: "Triumph is proud to once again be supporting this fantastic cause. The DGR unites motorcyclists from around the world to celebrate the biker community and tackle these difficult health problems."
Taking place in over 400 cities around world, the DGR is free to all with a donation encouraged for those participating.
Registration for this year's Distinguished Gentleman's Ride is open now. For further information or to book your place, please visit www.triumph.co.uk or www.gentlemansride.com