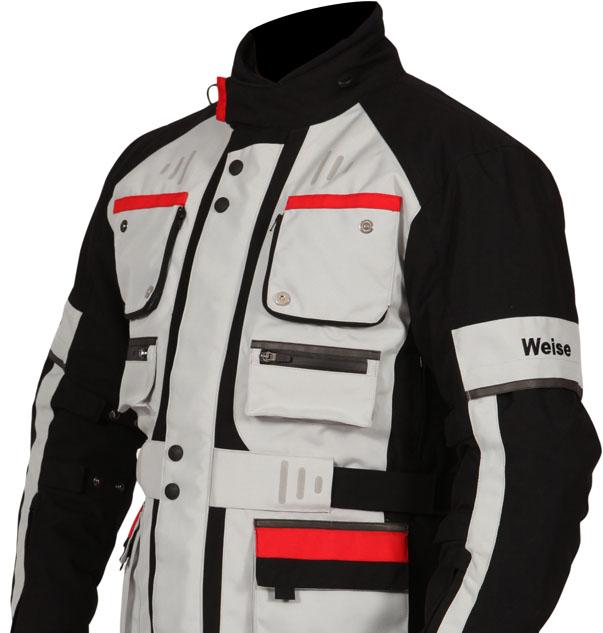 The new range-topping, four-season Outlast® Baltimore jacket from Weise incorporates a removable quilted liner made with climate control technology for comfort in all conditions.
Originally developed for NASA, Outlast® is a unique material that absorbs, stores and releases heat, actively regulating the body's micro-climate. As the body warms up, the heat is absorbed, keeping the wearer cool; as the wearer begins to cool down the heat is then released, to keep the body warm. This active control reduces temperature swings (the heat-up/chill down cycle) often experienced when riding in varying temperatures and conditions. And unlike many other technical fabrics found in motorcycle clothing, which manage moisture by wicking perspiration away from the skin, Outlast® works to prevent perspiration before it begins, keeping the wearer dry and reducing the risk of feeling cold due to evaporation.
The Baltimore jacket has a tough 500 Denier outer shell with full venting and 5-point CE protection (shoulders, elbows and back). Inside is a removable REISSA® waterproof and breathable drop lining and, for added safety in low light conditions, there are retractable neon covers incorporated into the sleeves.
Available in sizes S-5XL in Black or Black/Stone, the Outlast® Baltimore from Weise retails for £319.99 including VAT.
Riders can pair the Outlast® Baltimore with the new Outlast® Strada or Outlast® Diablo gloves, for complete climate control. Both are a mix of leather and textile, with Hipora breathable waterproof membranes and TPU armour over the knuckles. The Outlast® Strada sells for £89.99 and the Outlast® Diablo £99.99, in sizes S – 3XL.
All Weise products are covered by a no-quibble two-year warranty. For full specifications of the above and details on the complete range of Weise motorcycle clothing and accessories, call the Key Collection on 0117 971 9200 or visit www.thekeycollection.co.uk.