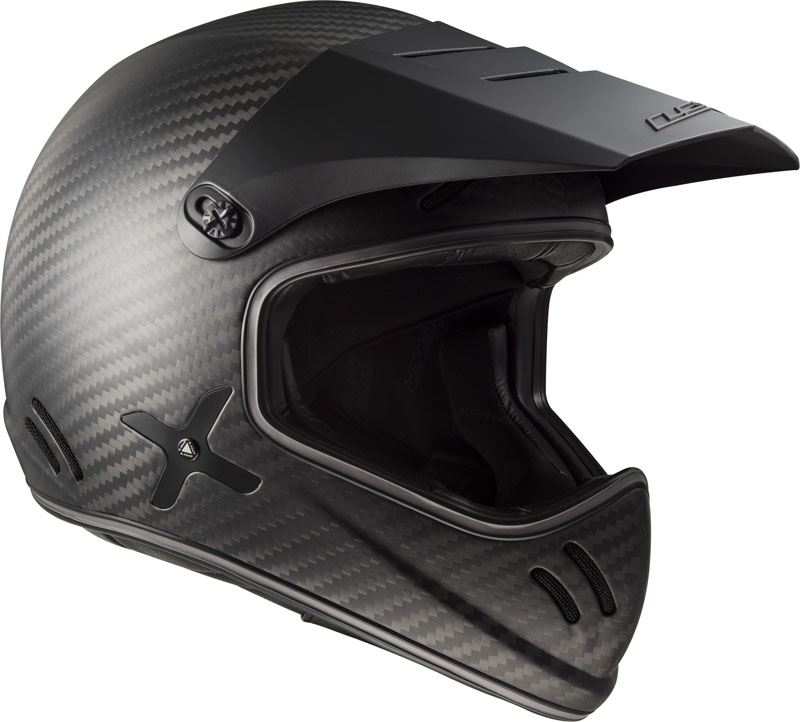 New from LS2, the Xtra blends classic styling with cutting edge materials, construction and features, for riders who want the old-skool look, but demand modern comfort, protection and performance.
The Xtra's impressive spec starts with the outer shell, which is made from 100% high-grade wide weave carbon fibre. It offers high penetration resistance and flexibility for energy dispersion, yet weighs in at just 1159 grams. Naturally, it's fully ECE 22.05 certified for road use. The shell comes in three sizes for the smallest, lightest possible helmet in each fitment range, and has a long-oval shape to follow the natural contour of the head, for a snug and reassuring fit.
The wide aperture offers plenty of all-round vision and accommodates most styles of riding goggle. Both Short and Long Peaks are included, to allow the rider to tailor to the Xtra to the riding conditions. Dynamic Flow-through Ventilation – with top and chin vents, internal channels and exhaust ports at the rear – help keep the wearer cool when the going gets hot. The breathable and hypoallergenic Extra Comfort Lining is removable and can be washed, to maintain freshness. An emergency release system also features, which allows first responders to remove the cheek pads, so the Xtra can be removed with minimal movement of a fallen rider's head and neck. A reinforced chin strap, double D-ring fastening and LS2's signature metal security plate top off the spec.
The LS2 Xtra is available in sizes XS-XXL (53-64 cm) and is priced £399.99. Visit www.ls2helmets.com for more information and to find your nearest stockist.