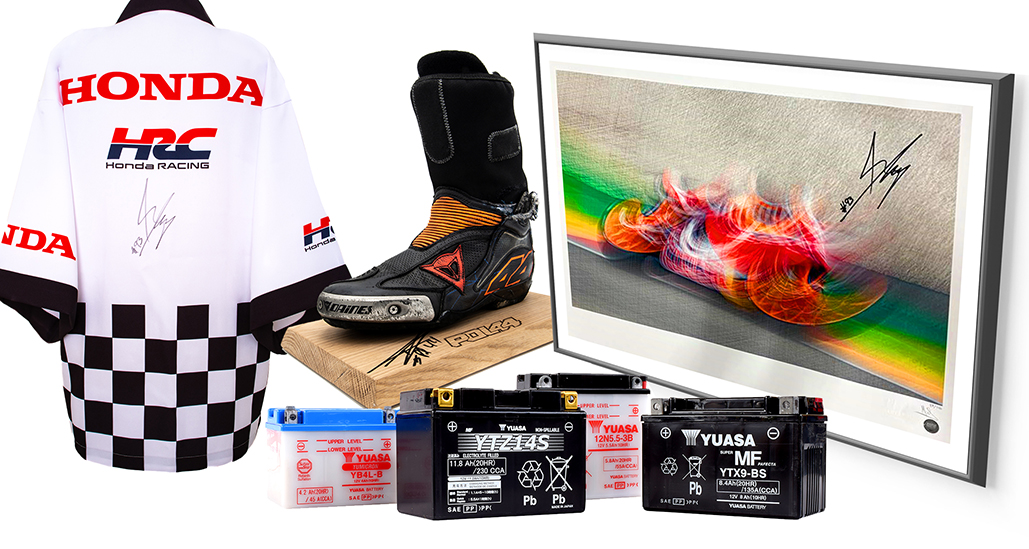 GS Yuasa, the world's leading battery manufacturer and proud sponsor of the HRC Repsol Honda Team in MotoGP™ with their Yuasa brand, is excited to announce the launch of a thrilling social media competition across Europe to celebrate Yuasa's 10th anniversary with the team.
Participants have a chance to win exceptional prizes, including a HRC Kimono worn and signed by eight-time motorcycle world champion Marc Márquez, a Marquez-signed wall art picture by renowned photographer Miquel Liso, and a racing boot signed and worn by two-time world title winner Pol Espargaró.
The lights have gone green on the rev-tastic competition which will run throughout the summer, and entering is easy: simply follow @GSYuasaUK on social media and comment with your favourite prize before the 16 November 2023 closing date. Don't miss this incredible opportunity to win money can't buy MotoGP memorabilia!
GS Yuasa's partnership with Repsol Honda and HRC began in 2013, and over the past decade, the collaboration has yielded six constructors and riders titles with Márquez and the team. As the world's leading original equipment manufacturer for motorbike batteries, GS Yuasa is committed to providing quality, reliability, and performance. The company's motorcycle battery range features the world-famous Yuasa YTX®, YTZ®, and GYZ® batteries, which offer maximum starting power, superior performance, and up to four times the service life of competing brands.
Theo den Hoed, Product and Supply Chain Manager – Motorcycle Batteries at GS Yuasa Battery Europe Ltd, said: "We are proud to continue our sponsorship with the HRC Repsol Honda Team, especially as we celebrate our 10th anniversary with them. It is a sponsorship we are enormously proud of and we look forward to seeing what Márquez and the team deliver on the track this season.
"Our long time sponsorship with Honda and its MotoGP team has helped us to elevate the Yuasa brand, while consolidating our status as a world leader in the design and manufacture of motorbike batteries. We deliver products that offer quality, reliability and performance, and the focus and success of the team helps reinforce this."
With the 2023 MotoGP season well underway, fans around the world eagerly anticipate the performances of Márquez and Joan Mir, as they strive to bring the Repsol Honda Team back to the top. Don't miss your chance to be part of the excitement and join GS Yuasa's social media competition today!
For more information about the competition and GS Yuasa's partnership with the HRC Repsol Honda Team, follow @GSYuasaUK on social media and visit www.yuasa.com For terms and conditions of the competition visit www.yuasa.co.uk/honda-repsol-motogp-competition-tscs/
For more info checkout our dedicated Battery News page Battery News
For more information on Yuasa's latest news and products visit www.gs-yuasa.eu