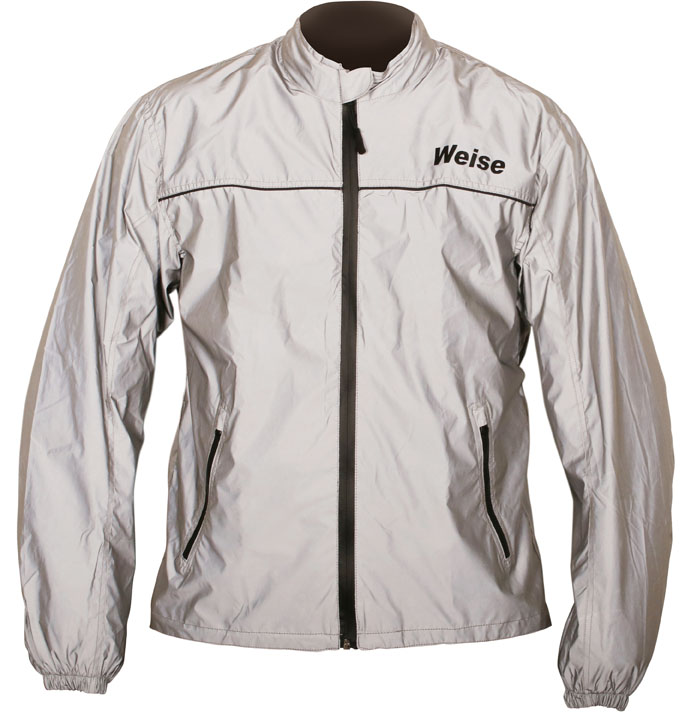 New for 2019, Weise® Vision rainwear protects riders from the elements and uses high-tech materials to massively increase visibility – a quick and cost-effective way to improve comfort and safety during challenging wet weather rides.
The jacket and matching trousers are made from waterproof fabric, with taped and welded seams, keeping you dry and warm, and enabling your focus to remain on the road – crucial in tricky weather conditions.
What makes the Vision stand out – literally – is the outer fabric, which has a 360-degree reflective coating. In normal daytime conditions it has a silvery appearance; when caught in a vehicle's headlights, the silvery surface shines brightly, helping riders to be seen out on murky days and dark nights.
With a full mesh lining, Vision clothing is easy to slip on and off over your regular riding gear, to suit the conditions.
Weise also produce a Gilet using the same 360-degree reflective technology. This is fastened with a reliable YKK main zip and has an adjustable waist, with Velcro® retained belt to prevent flapping and billowing at higher speeds. Once again, the mesh lining enables you to slip it over motorcycle clothing with ease.
The Weise® Vision range comes in sizes S-5XL; the Jacket retails at £49.99, the matching Jeans are £39.99 and the Gilet costs £34.99 (all inclusive of VAT).
For further information on the full range of Weise motorcycle clothing and accessories call 0117 9719200 or visit www.thekeycollection.co.uk