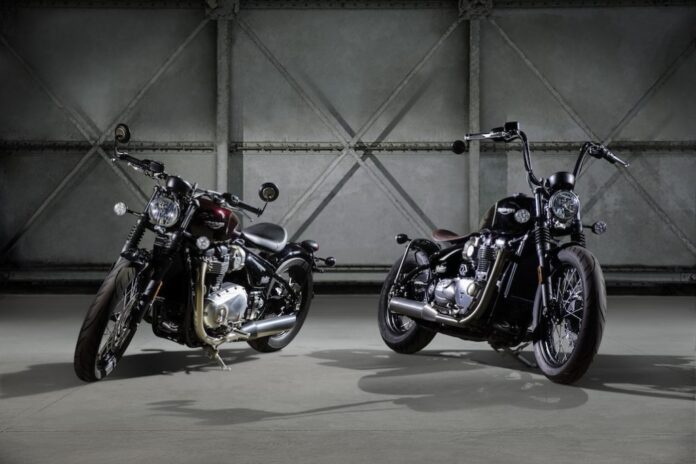 The wait is finally over for Triumph fans as the arrival of two new iconic models, the Bonneville Bobber and Street Scrambler, make their dealership debuts in a series of launch evenings across the UK on Thursday 23rd February.
The much-admired Bonneville Bobber will be taking centre stage. With its peerless attention to detail and its 1200cc tuned high torque Bobber engine, this brutal beauty has all the superb hallmarks of an iconic factory custom.
Retailing at £10,500 and powered by the critically acclaimed 1200cc high torque engine with a dedicated 'Bobber' tune for more torque and power lower down the rev range, the all-new Bonneville Bobber delivers a thrilling hot rod ride and a rich exhaust note.
Fans will also be able to get up close to the all-new Street Scrambler, the bold new addition to the Street Twin family. Providing a potent mix of 900cc powered fun and everyday rideability, the Street Scrambler brings a significant update in capability and style to the original iconic Triumph Scrambler.
Retailing at £8,900, the stunning Street Scrambler is ready to personalise with over 150 accessories to choose from.
The new T100 and T100 Black will also be in attendance – designed to satisfy today's demand for bikes that combine timeless style with modern capabilities; the 900cc powered T100 range has all the accessibility of the Street Twin but detail of a true Bonneville model. And from Spring 2017 the T100 and T100 Black will also come with the option of a dealer fitted A2 licence kit making them even more accessible.
Café Racer fans will also be able to meet the recently launched Street Cup. Loaded with distinctive and beautiful urban sports features it has been designed to deliver all the attitude, personality and style of a contemporary custom café racer for today's riders.
Paul Lilly, general manager of Triumph UK and Ireland, said: "There has been a great deal of anticipation around the bikes that we have recently introduced. They have been incredibly well received by the world's media and the excitement among Triumph fans and riders in general has been building over the past few months. We are delighted to finally get the bikes into dealerships for everyone to see and recommend that people book their test rides as soon as they can."