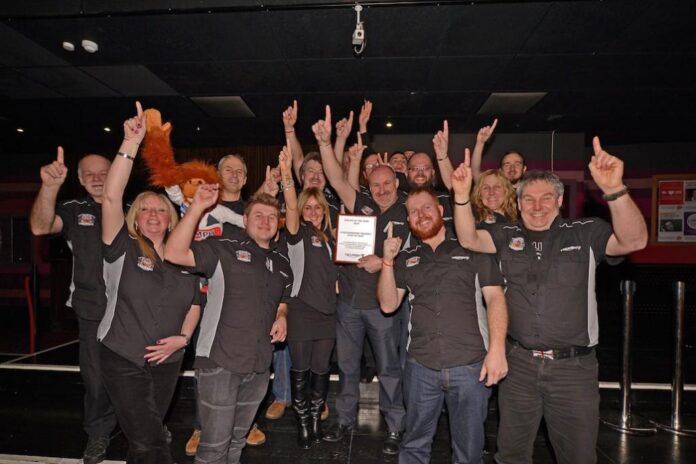 Britain's leading large-capacity motorcycle manufacturer, Triumph, celebrated the successes of its thriving UK network this week, at its annual Dealer Conference Awards ceremony. The event, which took place at the Birmingham REP Theatre (21 January 2015), saw representatives from dealerships nationwide come together to celebrate the achievements from the past 12 months.
The prestigious Dealer of the Year award was presented to Staffordshire Triumph. Having served the brand for more than a decade, this is not the first time the Stoke-on-Trent-based dealership has landed the accolade; they also took home the prize in 2012. The team was chosen in recognition of its ongoing performance in sales and service, as well as outstanding customer satisfaction.
Rick Cawley, UK general manager at Triumph, commented: "Staffordshire Triumph is an excellent example of the work being undertaken by dealerships up and down the country. By combining years of knowledge with a passion for all things Triumph, the team is able to deliver a brilliant customer experience to its varied client-base.
"Our dealer excellence awards are a great celebration of Triumph's nationwide network, highlighting the first-rate work being undertaken by Triumph's dealerships across the country. We're looking forward to continuing these successes throughout 2015, especially with the store launch of a number of new SE models, which we officially unveiled at Intermot and EICMA in 2014."
Triumph's UK dealer conference was attended by an audience of more than 270, with a total of 11 awards handed out across a variety of categories.
The 2014 winners, in the 11 categories, were:
Northern – Top Sales Person of 2014: Scott Lock (Norfolk Triumph)
Southern – Top Sales Person of 2014: Ken Kirby (Jack Lilley Romford)
Northern – Most Improved Dealer: Triumphworld Chesterfield
Southern – Most Improved Dealer: Hertfordshire Triumph Hemel Hempstead
Service Parts Dealer of the Year: Carl Rosner Motorcycles
Clothing Dealer of the Year: Total Triumph
Accessory Dealer of the Year: Jack Lilley Ashford
Sales CSI Dealer of the Year: J.S. Gedge (St Leonards on Sea)
Service CSI Dealer of the Year: Team Roberts Conisborough
Service Dealer of the Year: Jack Lilley Ashford
Dealer of the Year: Staffordshire Triumph