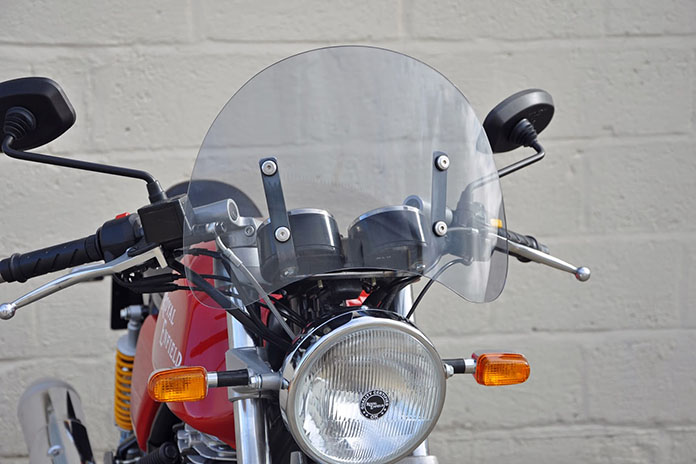 British motorcycle bodywork specialists Skidmarx have developed a selection of screens for the new Royal Enfield Continental GT.
For the traditionalist, the retro screen is manufactured in the UK from 4mm acrylic sheet, which was a popular material for bike screens at the time the original Continental GT was launched in the 1960′s. It is supplied with a tailor made fitting kit that mounts to existing points beneath the clocks and sells for £59.95 including VAT.
Owners looking to customise their Royal Enfield for a more contemporary look could opt for the standard flyscreen, which is 36cm tall and available in a wide choice of tints and colours. It sells for £54.95 and a taller version (at 43cm) is also available for the same price. Both come with a tailor-made fitting kit.
Alongside the screens, Skidmarx have adapted their popular GS cockpit fairing to fit the Royal Enfield cafe racer. Giving the 535cc single a more Seventies appearance, the mini fairing is made from glass fibre with a gel coat finish and comes with a screen and bike-specific fitting kit, priced at £79.95.
For more information on the full range of Skidmarx screens and bodywork call 01305 780808 or visit skidmarx.co.uk.