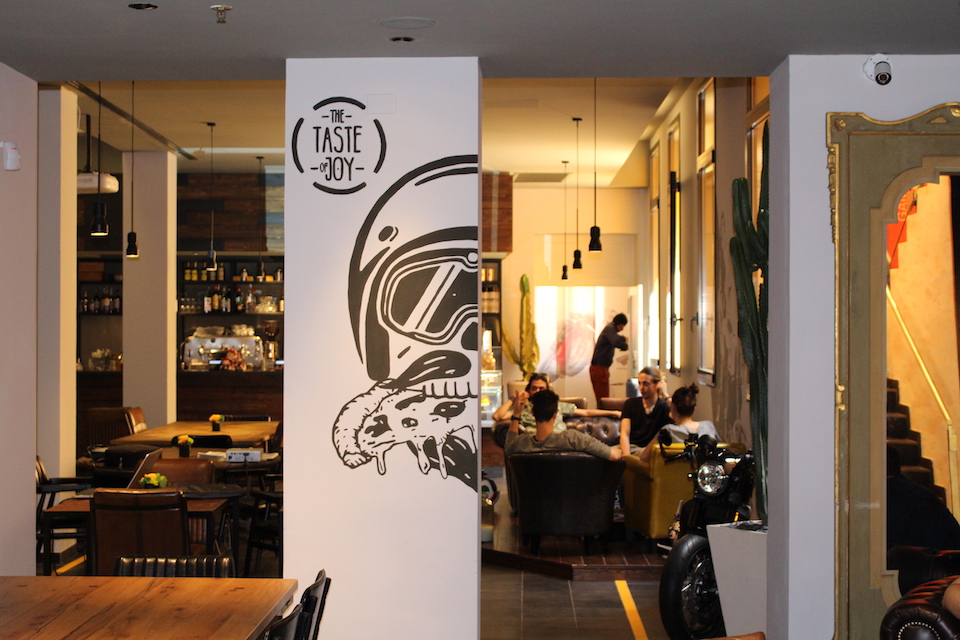 A second Ducati Scrambler Food Factory, the 'Land of Joy' food experience, has opened in Bologna. This latest food factory, located in the heart of the city centre, in via d'Azeglio 34, overlooks the suggestive Corte Galluzzi and the interior of the same-named tower that dates back to the late 13th century.

Conceived to convey and share a love of flavoursome, refined eating, the new Ducati Scrambler Food Factory is characterised by vintage design yet modern taste, much like the Ducati Scrambler itself: a unique experience that begins with food and goes on to encompass art, music, customisation, events, meetings and much more.

On the evening of Thursday 24 May the Ducati Scrambler Food Factory officially opened its doors with an inaugural ribbon-cutting event attended by Claudio Domenicali, CEO of Ducati Motor Holding, and Andrea Dovizioso, flag bearer of the MotoGP Ducati Team.
Scrambler Ducati Food Factory enjoys a prime location in the heart of Bologna, a pedestrianised area close to Piazza Maggiore that has always been the hub of the city's business, social, and political life.

Like the first Ducati Scrambler concept restaurant opened at the end of 2016 in via Stalingrado, this project was completed together with Sviluppi Urbani, a Bologna-based company specialising in food and beverage retail development.

The Ducati Scrambler Food Factory in via d'Azeglio is more than just a restaurant. It's also a perfect get-together venue, open every day from early morning until evening, ready to welcome customers for breakfast, an aperitif, brunch, dinner or an evening drink.

The Scrambler 'freedom philosophy' is also evident in the restaurant format, which can be modified as required. This is a place that combines USA spirit with the best culinary traditions of Emilia-Romagna: beef hamburgers, pork ribs cooked at low temperature and pulled pork with barbecue sauce, yet also freshly made pasta and platters of local cheese and salami. Needless to say, pizza (served in the classic round or long-base sharing format), prepared with fresh high quality ingredients, is on the menu, as is a fine selection of craft beers.

The entire menu is prepared using equipment built by Zanussi Professional, a pioneering professional kitchen brand and a symbol of Made in Italy excellence for over 100 years.

Highlighting the Scrambler brand's long-standing attention to the world of Food, this project merges smoothly with the "Taste of Joy" app (for both Android and iOS). Aimed at bike-loving foodies, this provides detailed information on both Ducati Scrambler concept restaurants.

For further information check out the food factory website or the Ducati Scrambler brand social media channels.
[wptb id=65242]
[wptb id=64599]