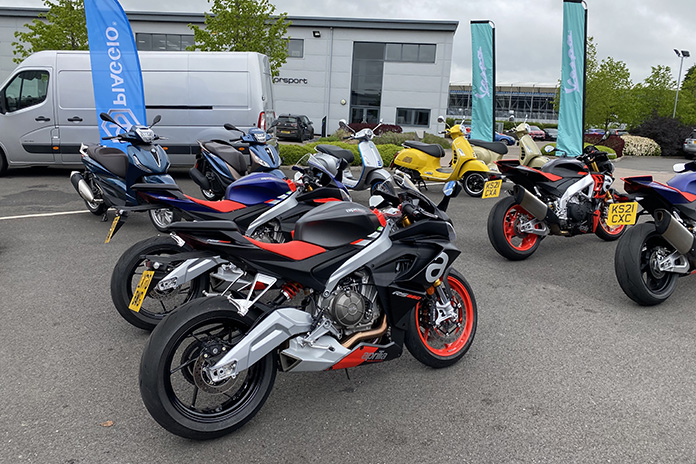 Yesterday we lucky enough to spend a bit of time at the Piaggio group press day where I got to ride the Aprillia RS660, Aprillia RSV4 Factory and Aprillia Tuono 660.
Our colleague Maja also took out Moto Guzzi, Aprilia RS 660 and Aprilia Tuono V4 she will express her judgment in a separate blog to come.
We are talking mid May in the UK and of course you really cannot rely on the weather and when you turn up to Silverstone its cold wet and miserable (the weather that is). Though the site of many gorgeous looking bikes all lined-up would make you smile and they did.
My quick overall impressions were the Aprillia RS660 and RSV4 Factory are excellent sports bikes. To me personally they are really more at home on the track or on smooth dry tarmac road on dry sunny day rather than wet UK roads in spring. That said if you are lucky enough to take them out you will walk away with a huge grin on your face.
Where as the Aprillia Tuono 660 is a much more friendlier day to day rideable motorcycle for your commute and a lot easier on the wrists in my case.
Don't get me wrong the Aprillia RS660, Aprillia RSV4 Factory are stunning bikes and would jump at the chance to own one or spend more time with them. Ive been on sportier bikes since was 16 however now I'm getting on a bit and a few ailments (wrist and hands) they maybe have too much power for me.
Aprilia RS660 – You can find more details here
[embedyt] https://www.youtube.com/watch?v=vDNcCL4gDKU[/embedyt]
Aprilia RSV4 Factory – You can find more details here
[embedyt] https://www.youtube.com/watch?v=WmHB9jMLGCI[/embedyt]
Aprilia Tuono 660 – You can find more details here
[embedyt] https://www.youtube.com/watch?v=tV8WZuD8dNE[/embedyt]
Many thanks to Niels/Lea and also Spyder Motorcycles Hire for sorting things on the day
For more Aprilia news check out our dedicated page Aprilia News
or head to the official Aprilia website aprilia.com/en_EN/

If you would like to receive our headlines daily to your email inbox then sign up to our newsletter: Here
Subscribe to our news channels: Here