P3 digital services, leading provider of In-Vehicle Infotainment (IVI) systems, and Vaisala Xweather, leading developer of global weather data and mapping solutions for business, announce their collaboration, and creation of a weather app specifically designed to meet the needs of motorcycle riders.
P3 designed and engineered the new app for a major international motorbike manufacturer, and it is currently being deployed.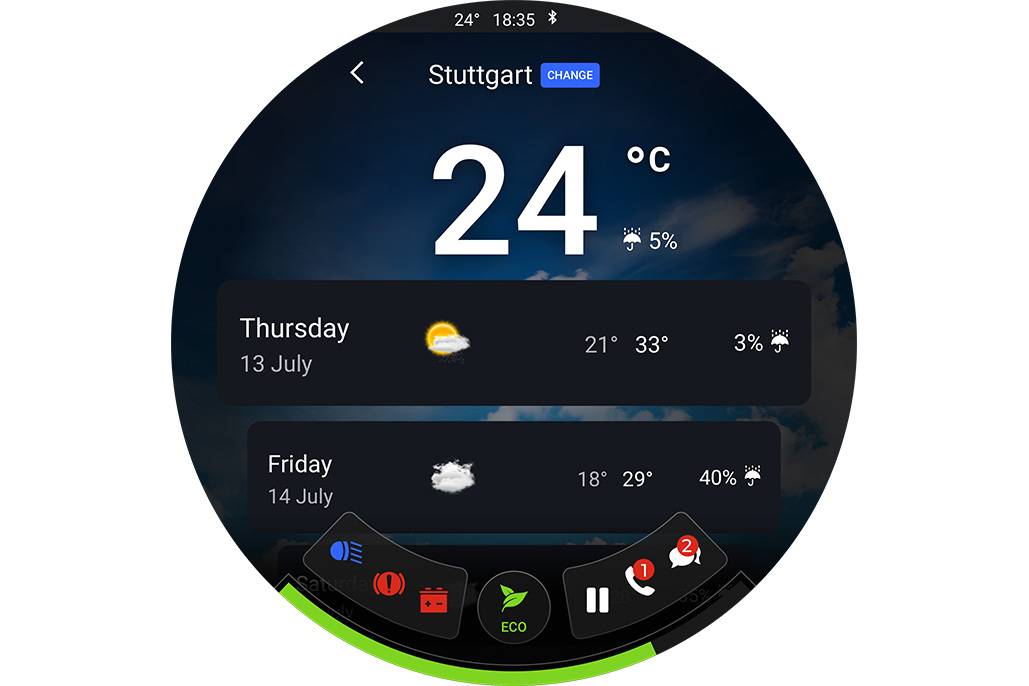 The new app is the result of P3's successful integration of Xweather APIs with Android Automotive OS. The new weather information application will join P3's rapidly developing SPARQ OS IVI platform.
The new P3-engineered app enhanced with Xweather data provides information that is highly granular, with motorbike riders in mind. In addition to temperatures and precipitation status and predictions, the app indicates wind velocity and intensity.
Uniquely, it gives the rider an understanding of weather conditions that is continuous for the entire journey. This makes the app far more useful than otherwise possible with conventional weather apps which only provide sequential snapshot data that is point to point, town to town.
The detailed information enabled by Xweather is particularly valuable to motorcyclists whose two-wheeled means of transport is more affected by weather conditions than fellow road users travelling in the shelter and comfort of a car.
The motorcyclist receives a comprehensive and dynamic weather forecast with data describing conditions as they travel, from the start of their journey, uninterrupted until the destination is reached. The app is even intelligent enough to capture average travelling speed and provide advice on dealing with surrounding conditions.
"We're thrilled to collaborate with the infotainment experts at P3, and to be joining the SPARQ Android Automotive ecosystem," said Ross Harrison, Strategic Partnerships & Account Executive at Xweather. "When it comes to delivering leading edge technology innovation, partnerships are key, and we're immensely proud that our joint solution will be playing a big role in improving motorcycle travel for millions of riders around the world," he added.
<image004.png>"It's an honor to be chosen by a leading manufacturer to deliver a truly next-generation user experience to its motorbike rider customers," comments Marius Mailat, CTO & Managing Director of P3 digital services.
"We're also really excited to be partnering with Xweather on this ground-breaking project, one that is set to significantly enhance rider experience and safety," Mailat added.