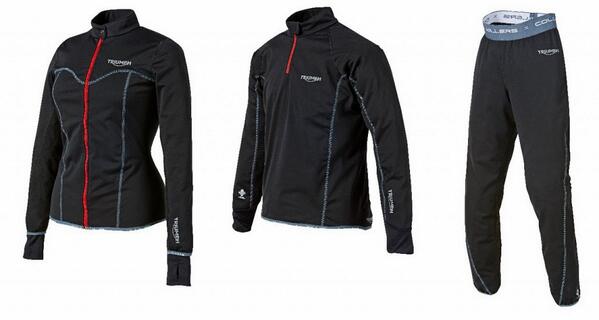 Knox, the British company specialising in impact protection and performance clothing and Triumph, Britain's premier motorcycle brand, have joined forces to launch a new collection of windproof mid layer clothing for AW14. The collection, Triumph by Cold Killers, will be made in Knox's British factory. Both British brands share a passion for innovation in motorcycling and the new collection will benefit Triumph riders around the world.
Knox Managing Director, Geoff Travell commented: "Knox and Triumph are both British brands and we have been working closely together for a number of years now. We respect each other's strengths and contribution and know that by working together we can accomplish more. The result is a Triumph Cold Killers mid layer collection that has been designed and engineered to benefit Triumph riders everywhere by keeping then protected from the elements. The collection is being made in our British factory and answers a growing global demand for British made product."
About Knox: Knox is a British company specialising in the innovation, development and manufacture of extreme sports protective equipment and impact protective Original Equipment.
Planet Knox Ltd 5 Derwent Mills Commercial Park, Cockermouth, Cumbria, CA13-0HT
T: +44 19OO 825825
E: sales@planet-knox.com
W: planet-knox.com