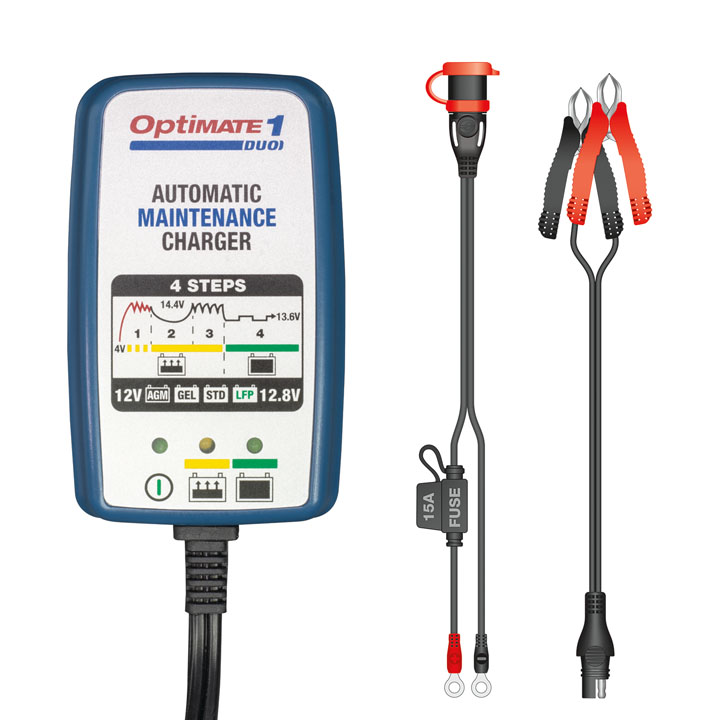 New for 2019, the OptiMate1 Duo takes battery charging and maintenance to the next level, automatically recognising whether a battery is lead acid or Lithium Ion, so the user can just plug-in and go.
Faced with a new or a recently acquired used bike, owners are often unaware of which type of battery their machine is fitted with – lead acid or the increasingly popular Lithium Ion (Li-ion).
Using the wrong charger with either type, but particularly Li-ion, can have catastrophic consequences, damaging the battery beyond repair over a relatively short period of time.
OptiMate 1 Duo uses the latest charging technology to automatically determine the type of battery is it connected to, and selects the charging programme to suit – so you don't have to.
It's ideal for owners of multiple machines too – no need for different chargers and no danger of attaching them to the wrong machine.
There's no risk of over- or under-charging and the OptiMate1 Duo has built-in spark suppression, with automatic shut-down, if short-circuited or the battery is disconnected. The unique 24-7-365 programme means the user can just 'connect and forget'.
It's safe to use with all 12 volt lead-acid, filler cap and wet cell, sealed AGM (MF) or GEL; and 12.8/13.2V lithium (LiFePO4) batteries.
The OptiMate1 Duo retails for 42.99 including VAT – less than the price of most replacement batteries – and comes with everything needed to get connected.