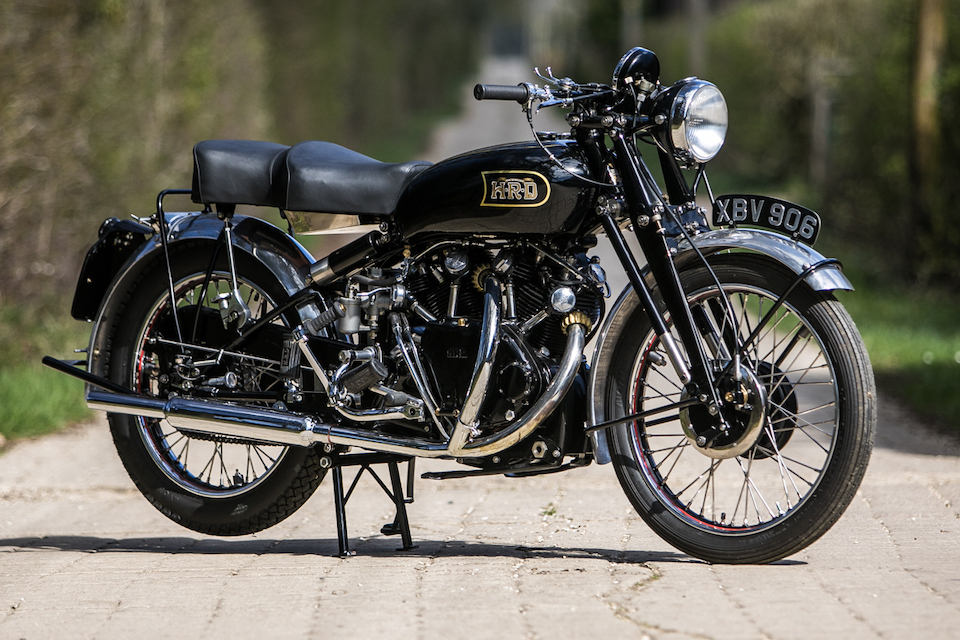 A rare, valuable and stunning Vincent Black Shadow Series C is being offered for sale at Silverstone Auctions' British Marques sale at Heythrop Park on the 11th May.
In superb condition and beautifully restored by Marque Guru, Andrew Kenningley of Southport using original parts, this is a legend of the motorcycle world.
The Heythrop Classic Car sale, which takes place earlier in the day, has a 2007 KTM 990 EFI Adventure offered from the classic car and bike collection of Jay Kay.
Making its public debut at the 1948 Earls Court Motorcycle Show, the Vincent Black Shadow went on to become a legend in its own lifetime, fuelling the demand among discerning collectors for fine examples of the marque, such as this one being offered in the Silverstone Auctions sale.
Amongst knowledgeable Vincent enthusiasts, the name of Andrew Kenningley from Southport is held in reverence. It was he who was responsible for the restoration of the 1949 Vincent Black Shadow Series 'C' that achieved the remarkable sum of £119,100 (inc. premium) at a major auction around 18 months ago.
Pleasingly Andrew was also responsible for, and indeed was the former keeper of, this 1951 Black Shadow we are privileged to be offering for sale.
The National Database of Classic Vehicles has confirmed that this Black Shadow dates from 1951. The Certificate of Authenticity from Vincent Motorcycles Ltd clarifies that frame number RC9055B has been fitted with a 1949 HRD 998cc engine, which is now to full Black Shadow specification and after speaking to Andrew he confirmed that it would be capable of 130mph if you are brave enough. In period the Vincent Black Shadow was the fastest road bike, originally topping out at a remarkable 125mph.
There is also a Vincent Motorcycles 'repair order card' showing that the motorcycle was rebuilt to a 'show standard' using all original panels. 512 hours were logged on the restoration and the work was completed in 2016. Every aspect of this Vincent's return to the top level has come under the scrutiny of Andrew and his brother and the results speak for themselves.
Our vendor purchased the completely restored motorcycle in 2016 and we believe it has remained in his lounge ever since. He starts it occasionally, but it has never been on the road. Restored to a show winning standard with zero miles since and with an estimate of £55,000 to £65,000, this is a 'Best-of-Breed' Black Shadow.
If you are after something more modern, a 2007 KTM 990 EFI Adventure is being offered in the Heythrop Sale from rock legend Jay Kay of Jamiroquai, a keen classic and supercar collector.
The bike has 1,000 miles from new and comes with a history file and a KTM service. Having been in Jay Kay's collection for a few years, he is now offering the bike with no reserve.
Arwel Richards, Auction Manager for the Heythrop sale commented "This is one fantastic motorcycle and one that has created a lot of interest. We are delighted to be offering such an important motorcycle and very much look forward to seeing the bidding in our British Marques sale."
"We are also delighted to be offering the KTM motorcycle from Jay Kay. In fact, we now have two lots from his collection and are honoured to be entrusted with selling two of his prized possessions."
The Heythrop and British Marques sale is a one day sale with viewing of the lots on Friday 10th May from 09:00 until 17:00 and on the morning of Saturday 11th May 2019.
The auction will take place on the 11th May starting with the Automobilia at 10:30 followed by the Heythrop Classic Car sale at 12:30 and finally the British Marques at 14:00
2019 Forthcoming Auctions
11th May The Heythrop Classic Car Sale – Heythrop Park
11th May A Sale of British Marques – Heythrop Park
27th & 28th July The Silverstone Classic Sale – Silverstone
21st September A Sale Of Ferraris – Dallas Burston Polo Club
22nd September The Porsche Sale – Dallas Burston Polo Club
9th & 10th November NEC Classic Motor Show Sale – NEC Birmingham
Images
1951 Vincent Black Shadow Series 'C' (01)
1951 Vincent Black Shadow Series 'C' (02)
1951 Vincent Black Shadow Series 'C' (03)
1951 Vincent Black Shadow Series 'C' (04)
2007 KTM 990 EFI Adventure
Links
Website: http://www.silverstoneauctions.com/
Bid online with our bidding partner Proxibid
Twitter: https://twitter.com/silverstoneauc