Celebrating 10 Years Of Triumph And The Distinguished Gentleman's Ride With The Launch of a Stunning New Bonneville T120 Black DGR Limited Edition.
The Distinguished Gentleman's Ride (DGR) unites hundreds of thousands of classic and vintage style motorcycle fans all over the world to raise funds and awareness for men's health. Founded in Sydney Australia in 2012, the DGR was created by Mark Hawwa as a wonderful new way to bring together motorcycle enthusiasts, focused on a common cause for good. Growing year on year, today the DGR spans the world with more than 90,000 riders taking to the streets in more than 800 cities, with more than $37m USD raised for prostate cancer research and men's mental health to date.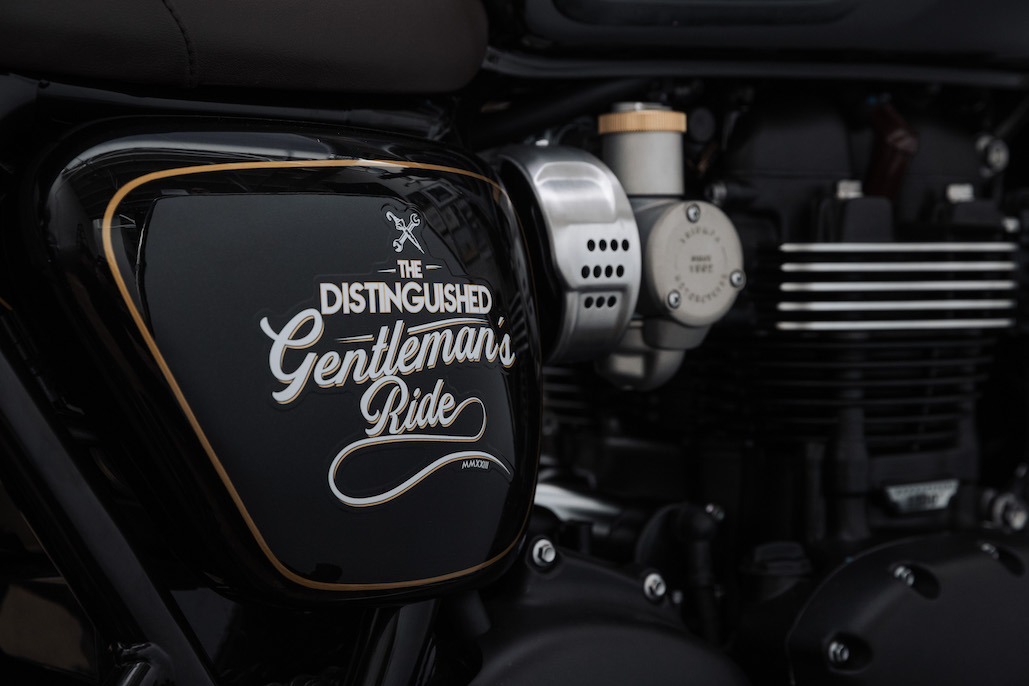 Triumph became the official motorcycle partner of the DGR from 2014, bringing a commitment to increase awareness, grow participation and ultimately increase fundraising in support of this worthy cause.  Everyone involved at Triumph is proud to have played a key role, in collaboration with Mark Hawwa and his team, in growing this incredible community. From providing financial support and resources that have helped to raise the profile of the DGR globally, to rewarding its participants, sharing the passion and drive that has made the DGR the world's largest on-road charity motorcycling event.
One of Triumph's most significant contributions has been in growing awareness and motivating fundraisers around the world, by providing motorcycles from Triumph's Modern Classic range as rewards for the top fundraisers. In previous years this has included unique motorcycles, such as a one-of-a-kind Triumph Thruxton RS DGR Edition and a custom '1959 Legends' Triumph Bonneville T120 and matching Gibson Les Paul Standard guitar, awarded to the 2022 ride's highest fundraiser as part of a collaboration between Triumph and Gibson.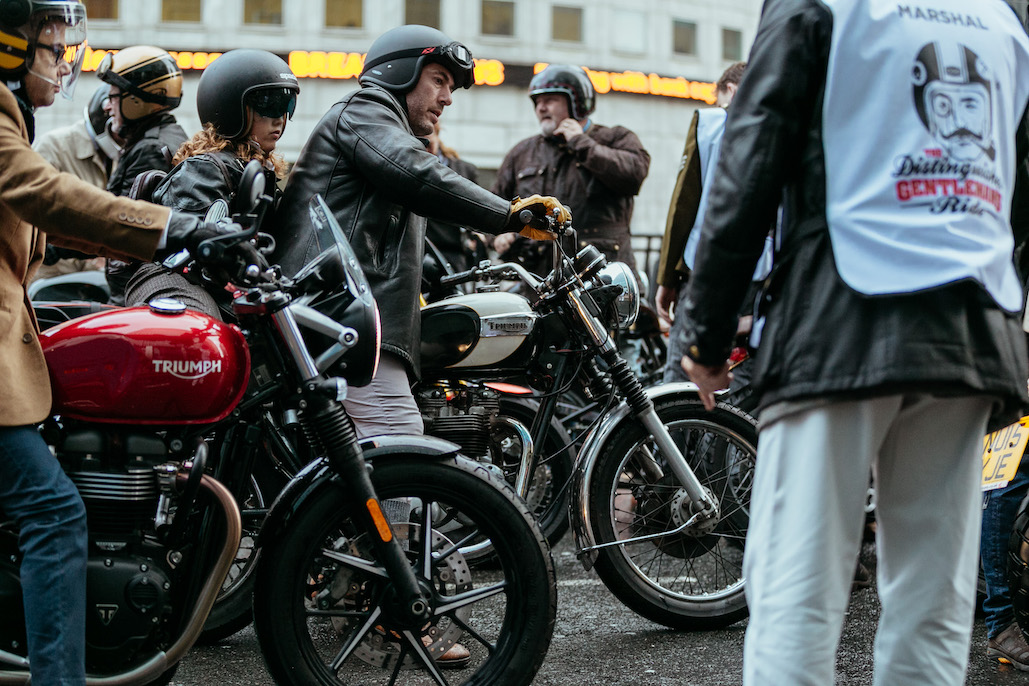 2023 marks the 10th year of this incredible partnership and represents a huge milestone for Triumph and the DGR.  To celebrate this landmark anniversary and help make the 2023 DGR event the biggest and most successful to date, Triumph have created 250 exclusive new Bonneville T120 Black Distinguished Gentleman's Ride Limited Edition motorcycles.
Designed with a stylish DGR metallic black and white paint scheme, featuring official DGR branding with a custom logo on the tank and side panels, gold detailing and distinctive brown seat, each one comes with a numbered certificate, signed by DGR founder Mark Hawwa and Triumph CEO Nick Bloor – with edition 001 being presented to the highest fundraised for the 2023 ride.
Additionally in our 10th year, we are thrilled to strengthen our relationship further by becoming an official clothing partner of the DGR, with an all-new limited edition range of lifestyle clothing to celebrate the DGR, created to raise additional funds for men's health.
The entire Triumph community, from our network of dealers and fans across the world, to our staff, designers and engineers are committed to continue to grow the reach and impact of the DGR in support of this incredible cause for good.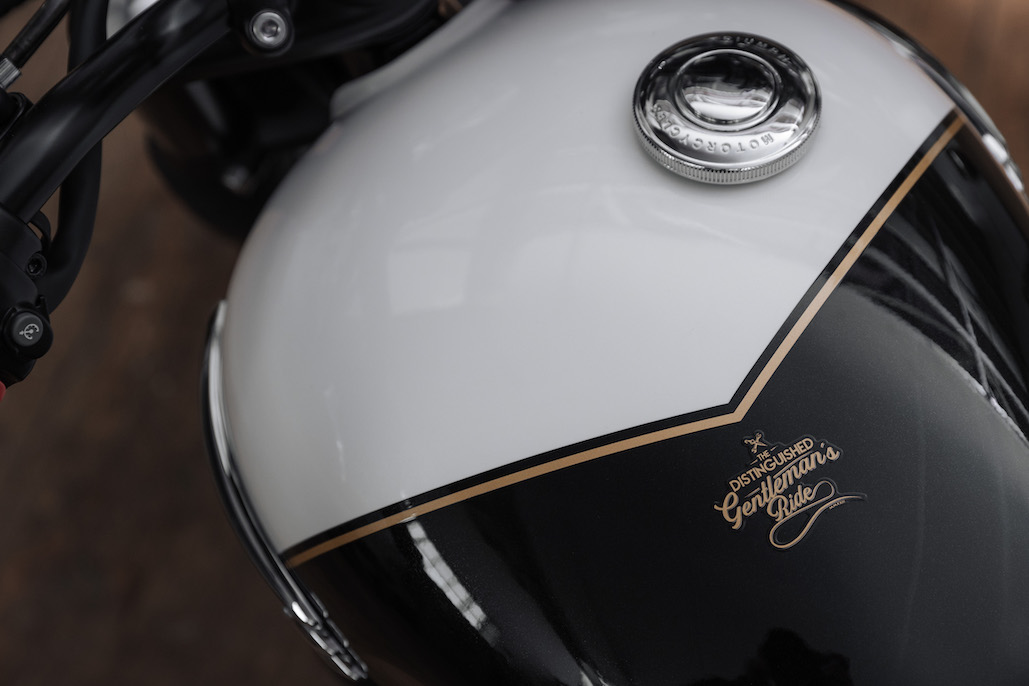 Together we will make 2023 the biggest and most successful DGR yet.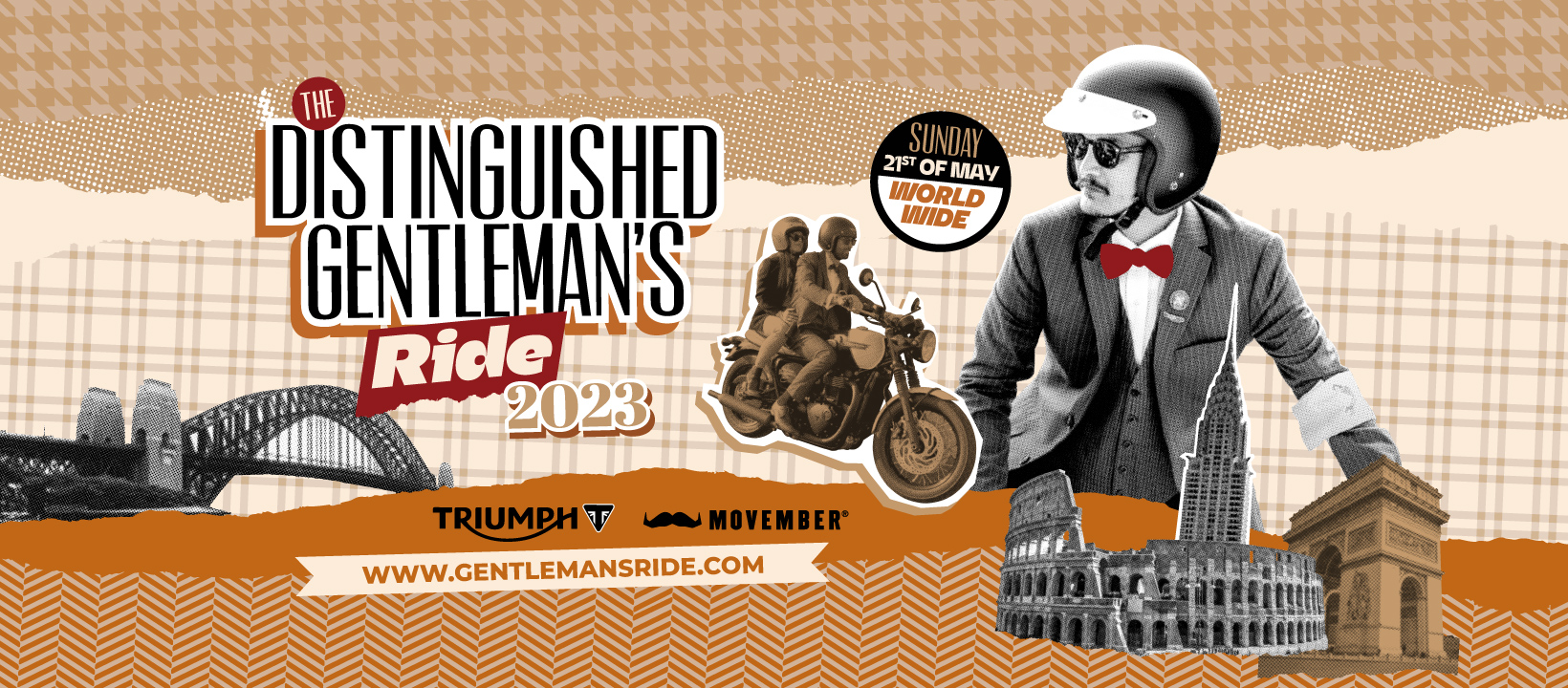 DGR founder Mark Hawwa
"If anyone had said 10 years ago that we'd be celebrating a decade of partnership with Triumph Motorcycles, I would have laughed. That first year of signing with Triumph has always been a highlight for me. It felt exciting, and that excitement still carries on every year. Triumph has become like a family to me and to The Distinguished Gentleman's Ride. They are passionate about getting classic styled bikes out for a ride and using the machines we love to make a positive impact for our cause. That excitement and passion has now been brought together in a product that speaks to our journey together. We are beyond proud to release the Bonneville T120 Black Distinguished Gentleman's Ride Limited Edition motorcycle, to celebrate what we have achieved together, and to continue doing more of what we love."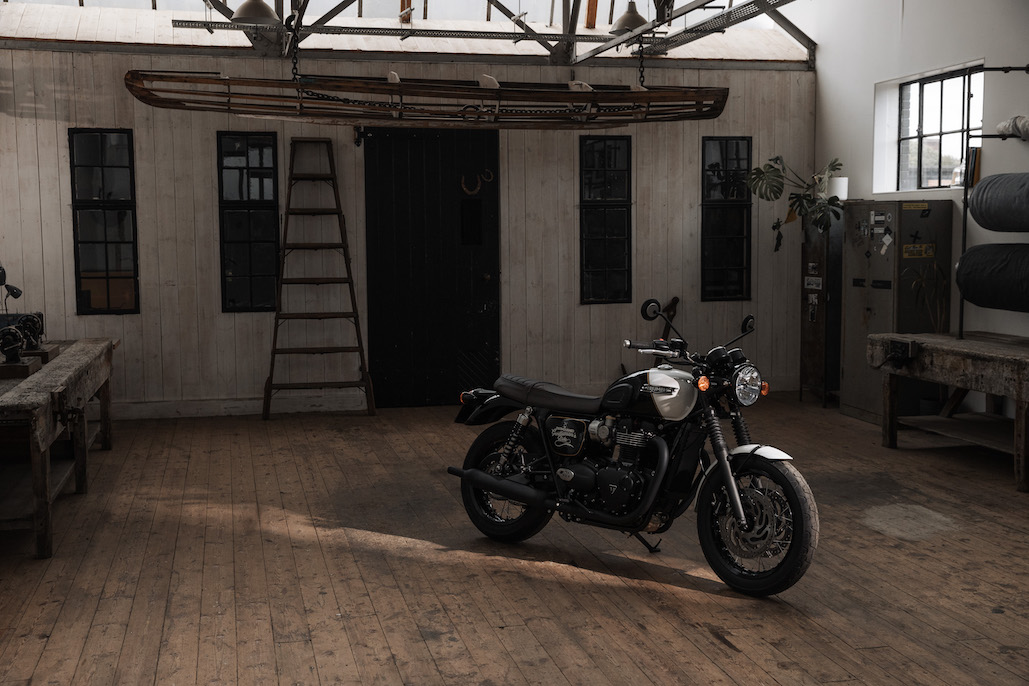 TRIUMPH Chief Commercial Officer Paul Stroud
"We are delighted to be celebrating the 10th-year anniversary of our unique relationship with the DGR, which is an incredibly important partnership for Triumph and the thousands of Triumph DGR fans across the world. From the beginning it was clear that the DGR and Triumph was a perfect fit, with a shared passion for motorcycles, style and riding for the people you love, something that is much more than sponsorship. Everyone involved over the last decade of the DGR, from the Triumph and DGR teams, to our dealers, the army of DGR organisers and ride hosts, and the legions of riders who passionately support this wonderful event and cause should be justifiably proud of the impact their efforts have had. With the launch of the new DGR edition of our Bonneville T120 Black our ambition is to mark this wonderful occasion with something truly special, that for me epitomises the spirit of the DGR and delivers a new way to delight riders and celebrate this incredible cause.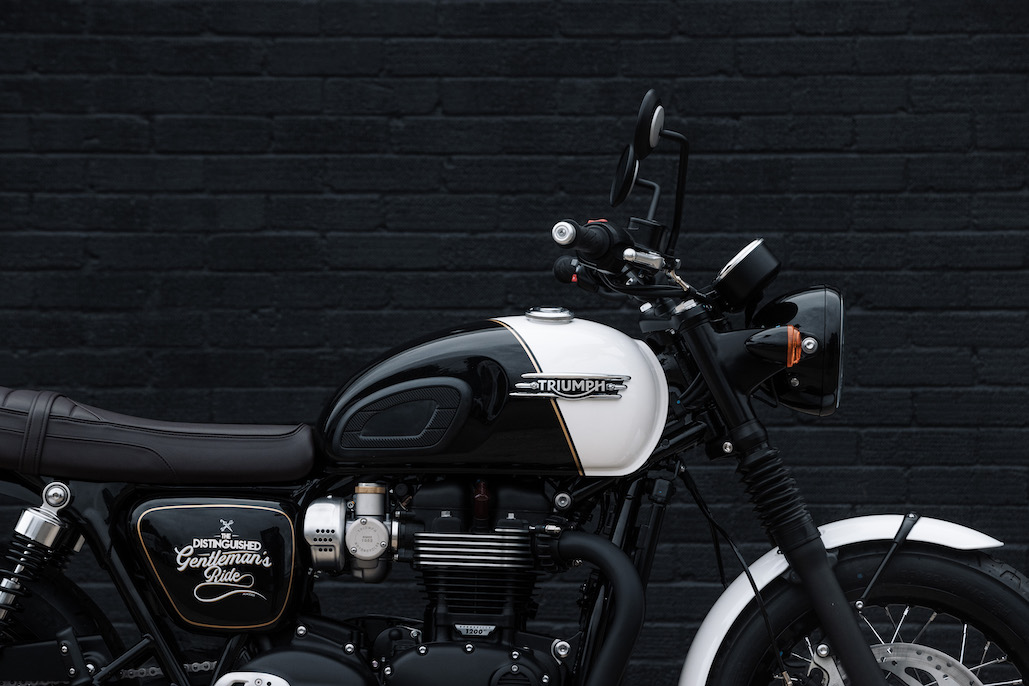 NEW 2023 TRIUMPH BONNEVILLE T120 BLACK DGR LIMITED EDITION
With just 250 available worldwide, this stunning and unique limited edition of Triumph's most iconic motorcycle has been created to celebrate the landmark 10 year anniversary of the partnership between Triumph and the DGR, to help make the 2023 DGR the biggest and most successful to date.
BEAUTIFUL

Stylish and unique custom Distinguished Gentleman's Ride edition paint scheme.
Sophisticated monochrome metallic Phantom Black and Crystal White two-tone paint scheme follows a distinctive 'dress suit' inspired design, drawing inspiration from 'dressing dapper' for dinner.
Beautiful gold fuel tank stripe detailing and hand-painted gold pinstriping on the side panels, inspired by the DGR's dapper clothing and accessory style, such as the classic gold pocket watch or tie-pin.
Custom DGR 2023 gold script logo featured prominently on the fuel tank and side panels.
Elegant brown stitched bench seat with pillion strap, enhancing the vintage custom look.
EXCLUSIVE

Limited to just 250 DGR edition motorcycles worldwide.
Each bike coming with a collector edition numbered certificate of authenticity featuring the motorcycle's VIN reference and DGR edition number, hand signed by the DGR's Mark Hawwa and Triumph's Nick Bloor.
Edition number 001 will be presented to the highest fundraised for the 2023 DGR.
CAPABLE

All of the latest generation Bonneville T120 Black's specification, with its significantly enhanced handling, high specification Brembo brakes and rider technology.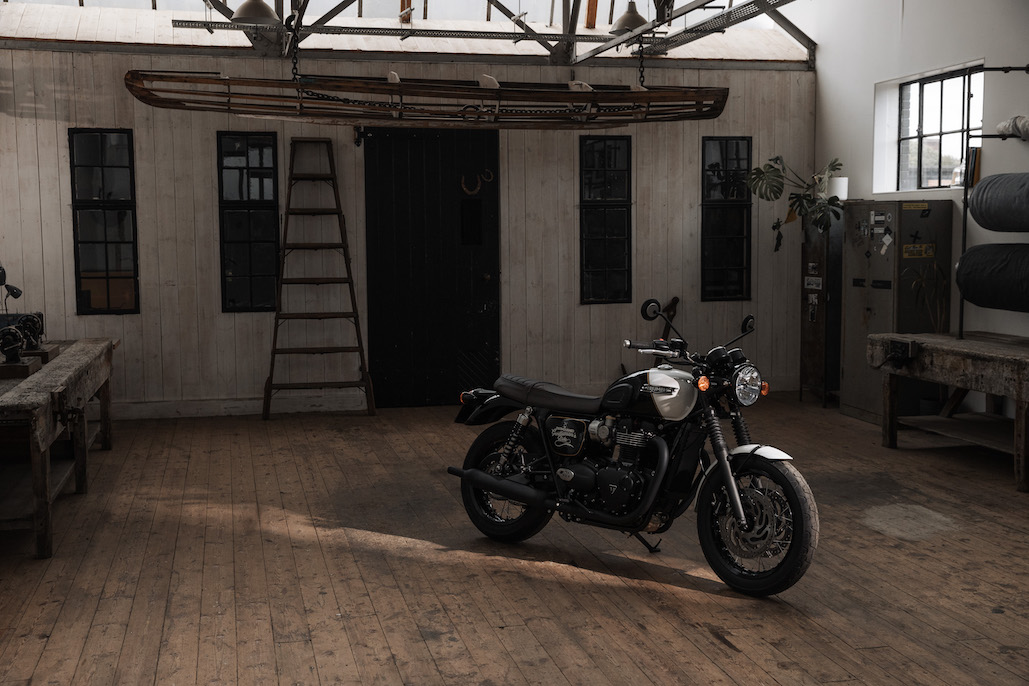 THE BONNEVILLE T120 BLACK – TIMELESS, CAPABLE, BEAUTIFUL
Significantly updated in 2021, the definitive British motorcycle icon takes its torque-rich 1200cc twin performance, sophisticated set up and beautiful Bonneville DNA to an all-new level, setting a new benchmark for timeless character and easy riding capability. With a significantly enhanced handling set-up, courtesy of a major 7kg weight saving over the previous generation, new lightweight aluminium wheel rims and new higher specification Brembo brakes, plus new rider technology, including cruise control and enhanced riding modes and an even more responsive throttle, the Bonneville legend continues.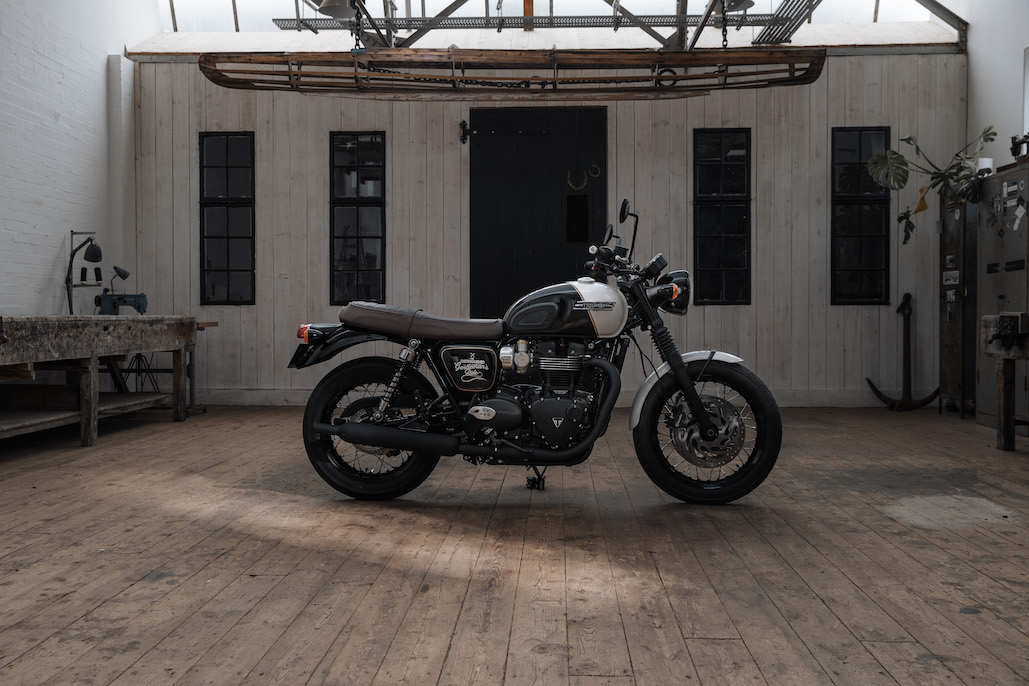 Engine and performance
The engine of the T120 Black is Triumph's signature 1200cc, high-torque British twin, which has been developed for an even better riding experience. The latest-generation T120's engine mass has been reduced significantly through the use of a lighter crankshaft. Together with an optimised clutch and balancer shafts this has also reduced inertia, which provides the new generation with a notably more immediate and responsive throttle. The T120 has been specifically tuned to deliver high torque, from low down in the rev range all the way through the mid-range, giving exhilarating performance throughout.  The 1200 twin engine delivers 105 Nm of peak torque at a very low 3500 rpm and its power peaks 80 PS at 6,550 rpm. With its sensitively designed liquid cooling system, the engine exceeds EURO 5 requirements, giving lower emissions than the previous generation and excellent fuel economy.
The T120 Black comes with a very high service interval of 10,000 miles or 16,000 kilometres helping to keep the ongoing cost of ownership low.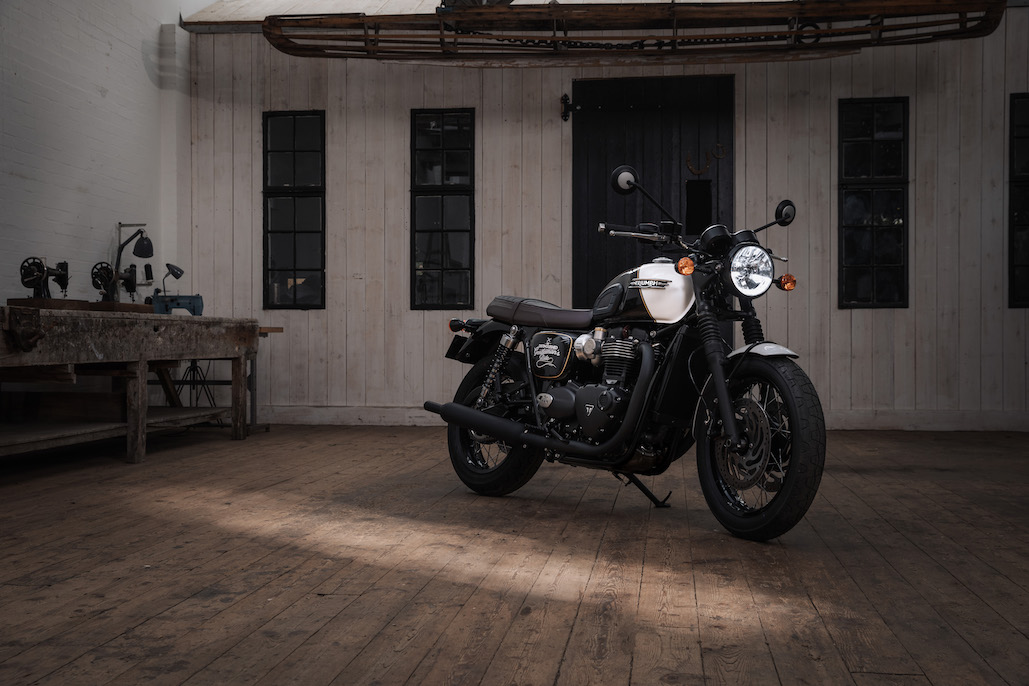 Handling
The trademark confidence-inspiring ride of the T120 has been enhanced with a 7kg weight saving over the previous generation. The aluminium wheel rims (18'' X 2.75'' on the front and 17'' X 4.25'' on the rear) give a major reduction in unsprung weight and inertia, making the new T120 more agile and manoeuvrable when riding, and also when you're moving the bike around at standstill.
The braking system has high specification Brembo front brakes, with a twin disc set-up and 2 piston sliding calipers giving excellent stopping power and improved feel. Safety and control have also been maximised thanks to Triumph's latest generation ABS and switchable traction control.
The combination of weight saving, new wheels and higher specification brake set-up makes the latest-generation T120 the best handling Bonneville T120 ever.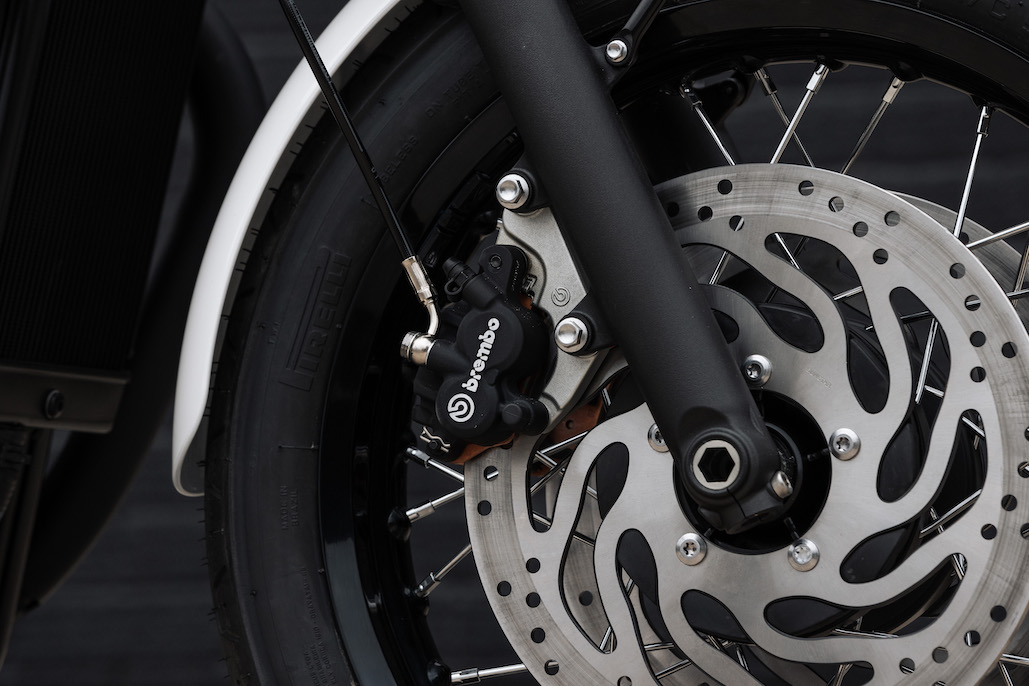 Rider Technology
The Bonneville T120 Black comes high specification technology, with cruise control fitted as standard along with enhanced riding modes.
The cruise control is set via a dedicated button on the handlebar, making it extremely user friendly for the rider as well as the selection of the riding modes. The rider can select between the Rain and Road riding modes, which will adapt the behaviour of the bike to the riding conditions.
Other high spec rider focussed technology fitted as standard include a torque-assist clutch, which reduces rider fatigue in heavy traffic or on longer journeys, an engine immobiliser incorporated into the key, a handy under-seat USB charging socket and internal wiring ready to plug in the accessory fit heated grips.
The headlight incorporates a distinctive LED daytime running light, where market legislation permits, which makes it easier for the bike to seen by other road users.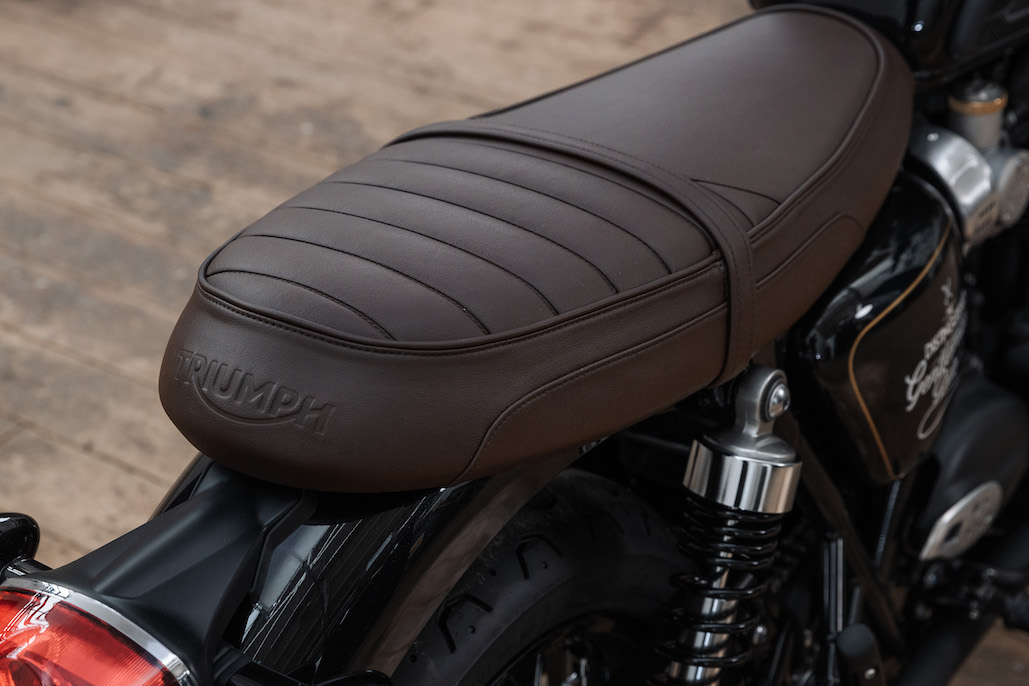 Style
The unmistakeable Bonneville silhouette is enhanced by touches that blend the T120's iconic style with Triumph's latest premium features.
The twin clock set-up has a premium 3D dial face with Bonneville branding and traditional typeface and colours.  The multi-functional digital display provides the rider with all necessary information, such as riding mode settings, cruise control status, gear position indicator and much more, and it is all controlled through the intuitive and easily accessible scroll button mounted on the handlebar.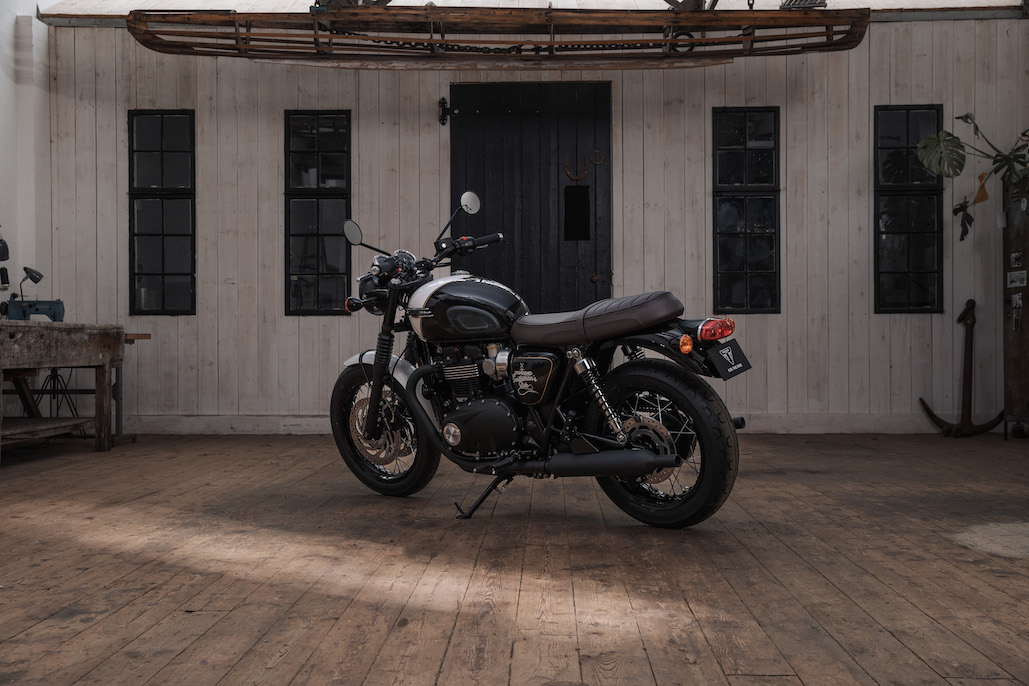 The iconic sculpted Bonneville tank with knee pads carries a 3-bar heritage chromed metal badge, adding a distinctive styling touch to the already unmistakeable T120 design.
The mean and moody Bonneville T120 Black features a host of premium blacked-out styling details and components, including wheel rims, grab rail, engine covers, mirrors, headlamp bezel, indicators, and exhaust.
And more than 100 genuine Triumph accessories are available for the T120 range, enabling riders to personalise their motorcycles.