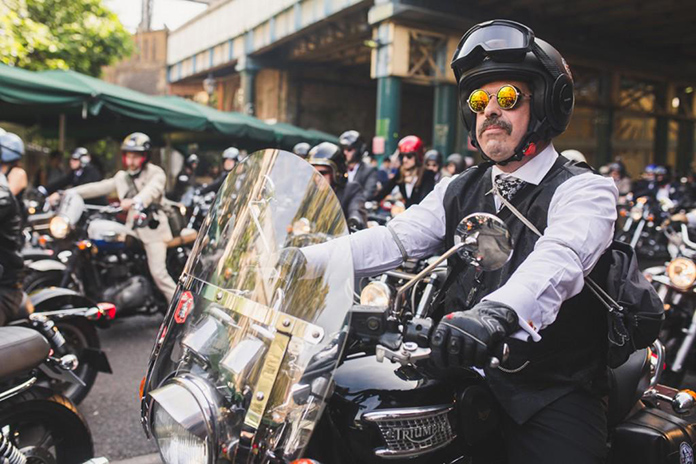 For the second year in a row, Triumph, the UK's leading large-capacity motorcycle manufacturer, will once again partner with The Distinguished Gentleman's Ride (DGR) for its global programme of fundraising rideouts. Taking place in over 400 cities around the world, groups of riders, on all makes and models, will dress dapper and tour the town – all in the name of prostate cancer.
A global phenomenon founded by a group of Australian friends in 2012, the DGR aims to offset the downbeat perception often linked to motorcyclists, while raising money for a hugely worthwhile cause. It's all about scramblers, café racers, classic-styled bikes and bobbers, as well as the charming chaps and chapesses that own them. What's important is having a great ride, conveying our class and raising awareness of a disease that kills one gentlemen every hour somewhere in the world.
Mark Hawwa, founder of the DGR, comments: "I wanted to bring together the classic custom scene with some simple criteria – dress like a gentleman, wear open-face lids so we can smile at each other politely and ride a bike with appropriate character.
"Our first focus was on fun, but we also wanted to break the stereotypes that society associates with men on bikes. Since our first event in 2013, we've raised a huge amount for prostate cancer charities and now host annual rideouts in 38 countries across the globe."
"This year, we're hoping for an even bigger and better event – something the ongoing support of Triumph Motorcycles will help us to achieve. Triumph is the perfect partner for us, not only because they are an authentic iconic motorcycle brand, but they are approachable, accessible and completely committed to enjoying the ride."
Director of sales and marketing for Triumph, Paul Stroud, commented: "The Distinguished Gentleman's Ride is a fantastic activity for us to support, based on riding bikes with friends and enjoying the camaraderie that this brings. Raising money for such a worthwhile cause, on a global basis, only adds to the reasons why we were so keen to be involved."
Registration for this year's Distinguished Gentleman's Ride is open now. For further information or to book your place, please visit www.triumph.co.uk or www.gentlemansride.com